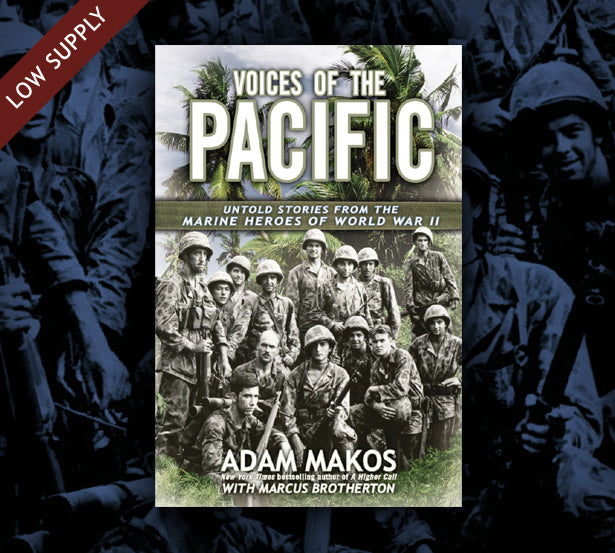 "Voices of the Pacific" with autographed bookplate
DESCRIPTION
ABOUT THE BOOK
BONUS CONTENT
We have a small number of first editions of the best-selling book Voices of the Pacific available in two different editions:

THREE SIGNATURE EDITION - Less than 3 remain!
Features a bookplate designed exclusively for Valor Studios that has been hand-autographed by author Adam Makos and two Marine heroes whose first-hand stories are told on the pages inside.

JIM YOUNG PAPERBACK - Less than 5 remain!
Paperback featuring a Jim Young signed bookplate. The book itself is autographed by author Adam Makos.

Includes a COA // shipping added in checkout // ships bubble wrapped & boxed

"Imagine a last conversation with your father or grandfather who fought in WWII, only this time he tells you the stories he always held back. That's Voices of the Pacific."—Larry Alexander, New York Times bestselling author of Biggest Brother

These are the stories from fifteen WWII Marines, compiled by Adam Makos and Marcus Brotherton but left unfiltered and in the words of the Marines who were there.

Unflinching, brutal, and relentless, Voices of the Pacific will leave a reader gasping for air and dumbstruck in awe of the old heroes who won the Pacific war with bare hands, bayonets, and guts.

The book presents accounts of heroism and honor as told by veterans Sid Phillips, R.V. Burgin, and Chuck Tatum—whose exploits were featured in the HBO mini-series The Pacific—and twelve of their Marine buddies, many from the legendary 1st Marine Division.

These Marines trace the action from the Pearl Harbor attack and intense boot camp training through battles with the Japanese on Guadalcanal, Cape Gloucester, Peleliu, and Okinawa, to their return home after V-J Day.

With unflinching honesty, these men reveal harrowing accounts of combat with an implacable enemy, the friendships and camaraderie they found—and lost—and the aftermath of the war's impact on their lives.

With unprecedented access to the veterans, never-before-seen photographs, and unpublished memoirs, Makos and Brotherton have forged Voices of the Pacific into an incredible historic record of American bravery and sacrifice.

Click the links below to go beyond the book and explore additional "Voices of the Pacific" bonus content . . . 


Eugene Sledge's letter to Sid Phillips about writing "With the Old Breed."



Read about F4U pilot Gene Morrison's experiences flying off Peleliu.



Read about Wildcat pilot Sam Folsom's experiences flying off Guadalcanal.



Read about life on the homefront from Katharine Phillips.