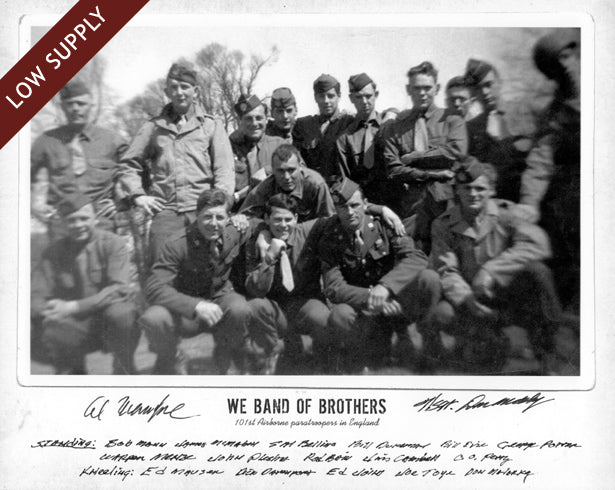 "We Band of Brothers" photo autographed by Easy Company paratroopers
DESCRIPTION
SIGNERS

PHOTO CARE
Taken in England during 1944, this group photo shows Easy Company, 506th PIR, 101st Airborne paratroopers including among others, Don Malarkey, Rod Bain, Joy Toye, Ed Mauser, and Ed Joint. 

This photo is autographed in black marker by Band of Brothers paratroopers Don Malarkey and Al Mampre. The photo features a caption identifying who is in the image, reproduced from Don Malarkey's own penmanship and an exclusively designed vintage motif.

Shipping added in checkout // photo size: 8" x 10" // ships flat in a heavy-duty envelope

LOW SUPPLY - ONLY A FEW REMAIN!


DON MALARKEY
Easy Company (506th PIR, 101st Airborne), veteran of D-Day (& Brecourt Manor), Market Garden, Battle of the Bulge, Bronze Star w/Oak Leaf Cluster, Author of "Easy Company Soldier."

AL MAMPRE
101st medic, "Toccoa" man, helped prep paratroopers for D-Day. Joined Easy Company (506th PIR) for Market Garden & Battle of the Bulge. Saved the life of Lt. Brewer, shot by a sniper. The same sniper would wound Al.

We recommend that all autographed items be displayed or stored using archival quality, acid free materials away from any moisture or strong light exposure. When framing art/photographs/posters, we recommend locating a framer who is familiar with archival framing, has a storefront so you can see examples of their work, is not within a big box store, and has full insurance in the event an accident occurs while framing your item.

UV blocking glass/acrylic, spacers, and acid free framing materials must be used to protect the image and signatures. Fading can occur even if an item is not displayed in direct sunlight (even a light bulb omits UV rays) so UV blocking glass/acrylic is necessary. Acid free spacers or mat board must also be utilized to prevent the signatures from direct contact with the top layer of glass/acrylic. If a signature is pressed against the clear material it will lift off the photo/poster/print and deteriorate.

In order to retain full value of your item, your art or collectible should be able to be removed from its frame or storage container and still be in the same original condition as it was when purchased from Valor Studios.

If you decide to store one of our art prints/collectibles without getting it framed, then we recommend flat storage in either an acid free art sleeve or between pieces of acid free foam core. The item should be stored in a dark and dry location, several inches off the floor. We do not recommend storing prints/posters/photos in tubes for any extended length of time.