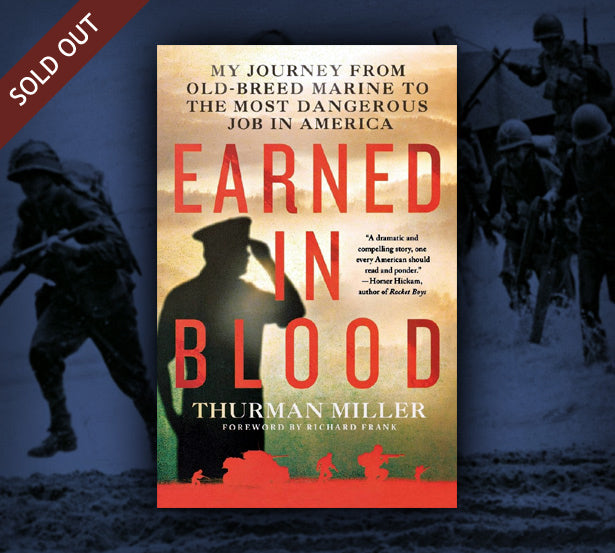 "Earned in Blood" autographed by T.I. Miller
DESCRIPTION
ABOUT THE BOOK
We have JUST ONE "Earned In Blood" book left, containing a bookplate hand autographed by Marine & author T.I. Miller! The book has two minor instance of battle damage, shown in the product images on this page. 

Each book is accompanied by a COA and ships bubble-wrapped and boxed.

Born in the Appalachian Mountains of West Virginia in 1919, Thurman Miller was the sixteenth of eighteen children in a family so poor, the local coal miner's kids looked down on them. His father was a subsistence farmer and it was rare for the Miller family to have enough food for everyone. But for Thurman, Appalachia was not just a region: it was a culture, a frame of mind, a being. Fighting, playing, and hiding in the hills would soon serve him well.

In 1940 he enlisted and served in World War II with the legendary unit K-3-5 of the First Marine Division. He was involved in some of the most horrific and famous battles in the Pacific Theater, including Guadalcanal and New Britain, where as Gunny Sergeant he sent men to their deaths and narrowly escaped it himself. From harrowing battlefield experiences to the loss of comrades, his powerful combat experiences would stay with him forever. Upon returning stateside, he taught at the prestigious Officer Candidate School at Camp Lejeune, preparing young officers for the horrific battles to come on Okinawa and Iwo Jima. After the war, suffering badly from the malaria and other diseases he contracted in the Pacific and unable to find work, Miller took a job in the coal mines in his home state of West Virginia, where he toiled in darkness for thirty-seven years. The blackness of the mines fed the terrors he lived with since the battlefield and the backbreaking labor ate away at his already compromised body. Bowed but unbroken, Miller survived because of his strength and lifelong devotion to his beloved wife of sixty-five years―a relationship that shines brightly in this distinctly American journey.

With uncommon wisdom, intelligence, and humility, this member of the Greatest Generation spins a gripping tale through peace and war, work and family, love and redemption across ten tumultuous decades.