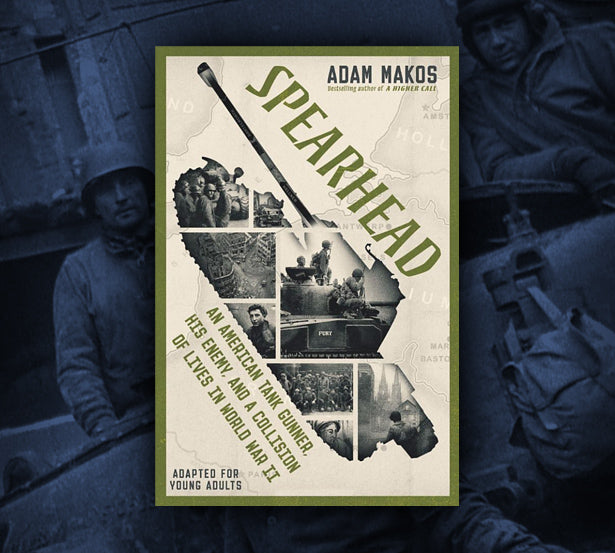 "Spearhead" Young Adult with autographed bookplate
DESCRIPTION
ABOUT THE BOOK
TRAILER
We have the Young Adult adaptation of the New York Times best-selling book Spearhead, written by Valor Studios co-founder Adam Makos.

Each hardback comes with a bookplate mounted inside that has been autographed by both Adam and Spearhead hero Clarence Smoyer.

Written for young adults aged 12 and up, this tells the same story as the adult book but a little faster and with less violence.

Includes a COA // shipping added in checkout // ships bubble wrapped & boxed


Adapted for young adults from the New York Times bestseller, a riveting and true WWII story of a young man - an American tank gunner - who meets his destiny in an iconic armor duel and forges an enduring bond with his enemy.

Shut the hatches. It's time to roll out. You'll find yourself behind enemy lines with Clarence Smoyer and the 3rd Armored Division, the workhorse unit known as "Spearhead," the best in the tank armor ranks.

You'll feel as if you are right beside Clarence and his fellow crew members--all formerly strangers from across America who have now become family to each other. You will be jarred by enemy fire, and then explore the other side, stepping into the boots of German tanker soldier, Gustav Schaefer and his crew. You'll witness the heartbreaking tragedy, when an innocent young woman is caught in the crossfire. You'll see what happens when all of these lives collide, and realize how the aftershock still affects the survivors more than a half a century later. A riveting and true account of the perils of war as well as the prospect of forgiveness.

Enjoy the official book trailer, featuring combat film of Clarence Smoyer in action!