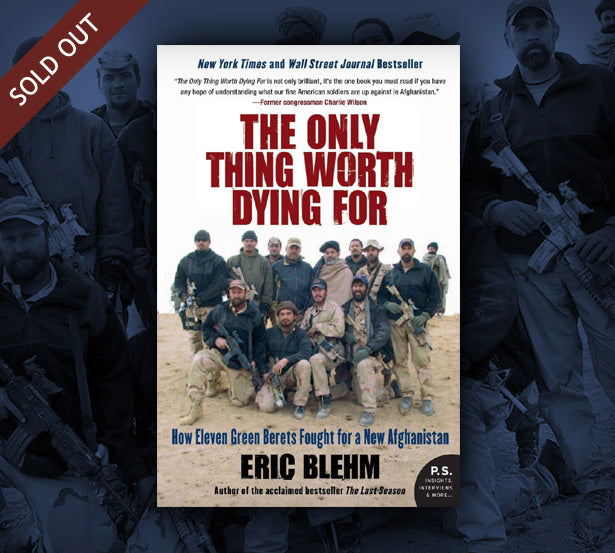 "The Only Thing Worth Dying For" with autographed bookplate
DESCRIPTION
ABOUT THE BOOK
We have hardbacks of the bestselling book The Only Thing Worth Dying For available with a bookplate signed by Green Beret and "Texas 12" ODA leader Lt. Col. Jason Amerine, whose story is told within the pages. Check out this US Army video about Jason: 


COLLECTOR EDITION - Sold Out 
Contains a bookplate designed exclusively for Valor Studios that has been signed by Jason. Each book is in mint condition. 

READER EDITION - Sold Out 
Same as the "Collector Edition" only each book carries some battle damage from shipping, including bent corners and folds/tears in the dust jacket. 

Includes a COA // shipping added in checkout // ships bubble wrapped & boxed


On a moonless night just weeks after September 11, 2001, a U.S. Special Forces team of Green Berets known as ODA 574 infiltrated the mountains of southern Afghanistan with a seemingly impossible mission: to foment a tribal revolt and force the Taliban to surrender. Armed solely with the equipment they could carry on their backs, shockingly scant intelligence, and their mastery of guerrilla warfare, Captain Jason Amerine and his ten men had no choice but to trust their only ally, a little-known Pashtun statesman named Hamid Karzai.

The Only Thing Worth Dying For chronicles the most important mission in the early days of the Global War on Terror, when the men on the ground knew little about the enemy and their commanders in Washington knew even less. With unprecedented access to surviving members of ODA 574, key war planners, and Karzai himself, award-winning author Eric Blehm cuts through the noise of politicians and high-level military officials to narrate for the first time a story of uncommon bravery and terrible sacrifice, intimately exposing the realities of unconventional warfare and nation-building in Afghanistan that continue to shape the region today.