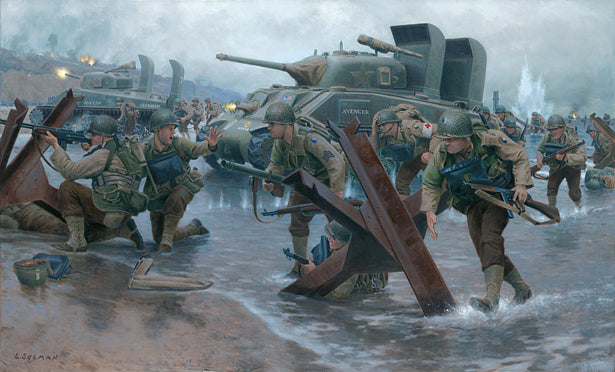 Ever Forward by Larry Selman
DESCRIPTION
EDITIONS
SIGNERS
PAYMENT PLAN
By 8:30 a.m., the 29th Division has run into the full fury of Hitler's "Atlantic Wall." For two hours, the 116th Infantry Regiment has been pinned down on "Dog Red" sector of Omaha Beach. No training could have prepared them for this. "But you learn fast," a sergeant said. "It's a quick study when your life's on the line." Now, something's changed. Commingled units regroup. American "Can-do" spirit takes over. Original objectives go out the window—they'll improvise instead. The regiment with the motto, "Ever Forward," is going to find a way off this beach. As M4s of the 743rd Tank Battalion weigh in, the troops make their break. This is the turning point, the moment when heroes decided there's only one path to victory: Forward.

Want to know "who" signed which print edition? Click the EDITIONS tab above.

Shipping added at checkout // print size: 32" x 22.5" // ships rolled in a tube


MAIN EDITION - ONLY 150 LIMITED-EDITION PRINTS LESS THAN 20 REMAIN!
Includes 3 signatures: Omaha Beach veteran Mal Walker, Higgins boat crewman Wil Staub and artist Larry Selman. Also includes photos & COA.

PUBLISHER PROOFS - ONLY 190 LIMITED-EDITION PRINTS
Dog Red Package // only 95 available, less than half remain // Includes 6 signatures: Omaha Beach veterans Mal Walker & Marion Gray of the 29th Division, Sherman tank driver Bill Gast (depicted in scene), "Big Red One" medic Ray Lambert (signature card), Higgins boat crewman Wil Staub and artist Larry Selman. Also includes ETO victory ribbon with invasion arrowhead, photos, and COA.

Overlord Package // Sold Out // Includes 8 signatures.

OTHER EDITIONS
Signer Proofs and Artist Proofs exist for veterans, helpers, and the artist's use, and a giclee edition may be released at a later date. 

Thanks to Paul Woodadge (WW2TV) & Steve Zaloga for their guidance with this project.


"Ever Forward" is hand-signed by a collection of D-Day heroes! Signers vary print by print. Click the "EDITIONS" tab to see which veterans signed which prints.

WILLIAM GAST
As a 19-year-old Sherman tank driver in A-Company (shown in "Ever Forward"), 743rd Tank Battalion, Bill found himself landing on Omaha Beach 10 minutes before their designated hour. His tank company supported the men of the 29th Division that morning though they themselves took heavy casualties. Of the 15 tanks in Gast's A-Co., only five survived without damage. Following D-Day, Bill fought with A-Co. as they expanded the beachhead and in August 1944 earned the Silver Star in addition to the Purple Heart. His Silver Star citation reads:

PFC William E. Gast is awarded the Silver Star for gallantry in action on 9 August 1944, in France. An enemy rocket projectile struck a tank, killing two of its crew members and wounded two others. Private Gast, hearing the wounded men's cries for help, heroically dashed one hundred and fifty yards across open terrain swept by enemy small arms, artillery, and mortar fire to the knocked out tank. He administered first aid to the two wounded men, and then, helping one whose leg was broken and accompanied by the other he made his way under fire back to an aid station.

MARION GRAY
25-year-old medic Marion Gray found himself in the first wave hitting the Dog Green sector of Omaha Beach on D-Day morning. Part of the famed A-Company (see the book Bedford Boys), 116th Infantry, 29th Division, Marion was soon wounded becoming one of the 230 causalities suffered by A-Co.. He was evacuated to England and after 30 days rejoined his company near Saint-Lo. He would remain in combat with A-Co. from that point on, fighting through France, Belgium and Germany up to the Elbe river. For his actions in WWII, he would be awarded the Bronze Star, Purple Heart and many other medals. Listen to Marion share his thoughts on the price of freedom in the short video below: 

 

RAY LAMBERT (SIGNATURE CARD)
On D-Day morning, 24-year-old Big Red One medic Ray Lambert was among the first wave to hit Omaha Beach's Easy Red sector. Less than five hours later, after saving dozens of lives and being wounded at least three separate times, Ray would lose consciousness in the shallow water of the beach under heavy fire. He would wake on the deck of a landing ship having survived his third invasion of the war. During his service in WWII, Ray oversaw a medical section in battles throughout North Africa and Sicily where he earned the Silver Star, multiple Bronze Stars, and Purple Hearts. He would go on to author the bestseller Every Man a Hero and be honored by Sam Elliott during the PBS Memorial Day concert, a moment you can watch in the video below:



MAJOR GENERAL JOHN RAAEN (SIGNATURE CARD)
Born the son of an officer on an army base in Georgia, John Raaen had the military in his blood, attending West Point before progressing first to the Engineer Corps and then the newly created 5th Ranger Battalion in 1943.

Supposed to follow on behind the 2nd Rangers tasked with attacking the Pointe du Hoc, delays and miscommunication meant Captain Raaen and members of the 2nd and 5th Ranger Battalion were sent in to Omaha beach instead. Arriving at a slightly less well-defended section of the beach, Raaen and his Rangers were able to break through the German lines, challenging machine gun nests and helping to slow down the slaughter on the beach below.

On D+1 Raaen began making his way to the Pointe du Hoc where he eventually helped to relieve the troops whom had been held there by German gunfire since the early hours of D-Day. For his first three days service in Normandy, Raeen was awarded the Silver Star.

After the war he went on to rise through the ranks to Major General before retiring in 1979. Listen to General Raaen share his D-Day war stories in the Fox Sports video below:



WILLIARD STAUB
Our first ever Coast Guard signer, then 20-year-old Wil Staub served aboard the USS Samuel Chase (APA-26) and on D-Day morning was the ramp man on a Higgins boat crew bringing soldiers of the Big Red One's 16th Infantry Regiment into Omaha Beach's Easy Red sector. Wil made multiple trips that day aboard LCVP 26-26, hauling wounded off the beach, and likely brought back famed photographer Robert Capa who was filmed returning onboard his landing craft (see actual photo on this page). Following D-Day, Wil continued to serve on the Samuel Chase through the end of the war, and even participated in a second invasion, this time in Southern France. Listen to Wil share his war stories in the video below:



MALVIN "MAL" WALKER
Serving as a 1st Lieutenant and platoon leader in L-Company, 115th Infantry Regiment, 29th Division, Mal assaulted Omaha Beach in the second wave on D-Day morning. He would survive that harrowing day but would be wounded twice during the fighting in Normandy, eventually being hospitalized in England before returning to combat after three months of recovery. He rejoined the 29th on the German/Belgian border and served as an intel officer all the way through reaching the Elbe River. Following VE-Day, and now a Captain, Mal was appointed the Town Major in Bremen where he helped to rebuild the battered German city and look after its residents. For his actions during WWII, Mal received two Purple Hearts, the Bronze Star and was appointed to the rank of Knight of the Legion of Honor by the President of France, François Holland.

FLOYD WIGFIELD
Rifleman Floyd Wigfield assaulted Utah Beach on D-Day morning as part of G-Company, 22nd Infantry, 4th ID. He nearly drowned in the surf if not for his life preserver which kept his head above water. He survived that day and the fighting to follow for two weeks when an enemy artillery round hit feet away, peppering him with shrapnel. Sent to England to recover, he rejoined G-Co. several months later and fought as a first-scout through France, Belgium and Germany until he was again wounded in fall 1944. Listen to Floyd share his war stories in the video below:



We've teamed up with the leading e-commerce company, Partial.ly, to offer you a 0% interest, six-month payment plan on the "Ever Forward" Dog Red Publisher Proofs! To start your plan, please read our terms below and click the appropriate Partial.ly button to begin.

If you wish to put multiple items on payment plan please email us at staff@valorstudios.com and we'll create a custom Partial.ly plan for you.

PAYMENT PLAN TERMS
- Payments are automatically processed each month by Partial.ly.
- Payments are non-refundable.
- Your print will ship upon completion of your payment plan.