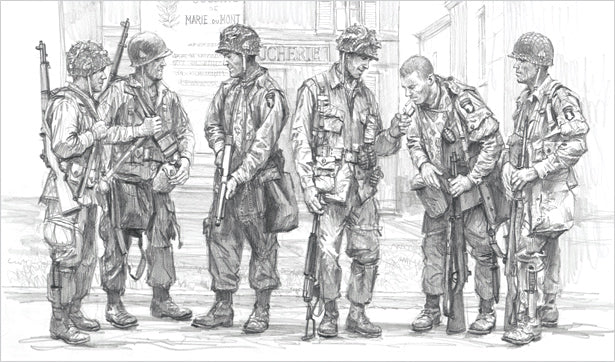 Normandy Odyssey by Gil Cohen
DESCRIPTION
EDITIONS
SIGNERS
On June 7, 1944, a day after their scattered jump into Normandy, paratroopers of Easy Company, 506th P.I.R., 101st Airborne, pause in the newly liberated French village of Sainte-Marie-du-Mont. In their odyssey to rejoin Easy Company, the men have traveled the enemy-occupied countryside, stopping only to fight skirmishes at medieval farms and hedgerows. Now, safely within the friendly lines behind Utah Beach, they relax by a memorial to the dead of World War I to reflect on where they've come and to prepare for where they're headed.

Want to know "who" signed which print edition? Click the EDITIONS tab above.

Shipping added in checkout // print size: 20" x 16" // ships rolled in a tube

OPEN EDITION
Non-limited, unnumbered, signed by Easy Company paratroopers Rod Bain, Earl McClung, and Ed Tipper. Includes a certificate of authenticity. 

ROD BAIN
Rod Bain was born in Portland and grew up a ferry ride away from where his future buddy Don Malarkey lived. With the breakout of WWII, he volunteered for the airborne and was one of the original 140 members of Easy Company at Camp Toccoa. He became a radioman, lugging the 60 pound radio in addition to his usual equipment and served under Lt. Buck Compton in Easy Company's 2nd Platoon.

On D-Day, Rod landed about three miles from Ste. Mere Eglise and joined up with other troopers far from their DZs. He survived Normandy and fought in Market Garden where on one recon patrol, he, Malarkey and Eugene Jackson, captured eight German soldiers.

During the siege of Bastogne, Rod shared a foxhole in the Bois Jacques with Bill Guarnere and Malarkey. He stayed with Easy Company all the way through the end of the war in Berchtesgaden. In the post war years he became an educator and lived in Alaska.

EARL MCCLUNG
Earl was born on April 27, 1923 at the Colville Indian Reservation in Inchelium, Washington. While in his senior year of high school, on Feb 15, 1943, McClung was drafted into the U.S. Army. He underwent infantry basic training at Camp Walters, Texas, and volunteered for Airborne training at Fort Benning, Georgia.

McClung joined Company E, 506th Parachute Infantry Regiment, at Fort Bragg, North Carolina before shipping out to England. He participated in all of 101st Airborne Division's major campaigns in the European Theatre of Operations. He received two Bronze Star awards for valor and the Purple Heart for being wounded in the line of duty.

McClung left the service in 1947 and worked for the Postal Service, for 17 years. He then worked for 13-years as a game warden on the Collvile Indian Reservation, a post from which he retired in 1988.

ED TIPPER
Ed was born August 3, l921, in Detroit. When Pearl Harbor was bombed and war declared, Ed tried to enlist in the Marines, but was rejected because his teeth did not bite together perfectly. Instead, Ed enlisted in the Army Paratroops and in August l942 became a founding member of Easy Company as it was formed in Toccoa, Georgia. Ed jumped with Easy Company into Normandy on D-Day.

Ed fought a short, but intensive war before he was badly wounded by mortar fire in the battle for Carentan, France. Ed spent a year in Army hospitals and recovered almost completely except for his destroyed right eye.

After the war, Ed graduated from University of Michigan in l949 then spent more than 30 years teaching high school in Iowa and Colorado. In his spare time, Ed bought, renovated, and operated apartment buildings, before retiring in l979.