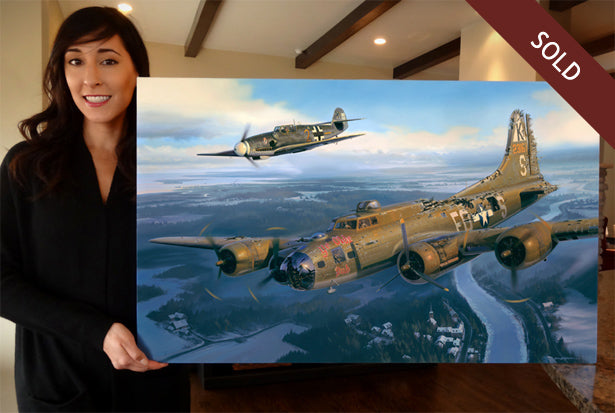 "The Guardian" Original Painting by Nicolas Trudgian
Now is your chance to own a one-of-a-kind masterpiece by famed artist Nicolas Trudgian, depicting the legendary encounter between Franz Stigler and the crew of the B-17 "Ye Olde Pub."

The story of Franz Stigler appears in the international bestselling book, A Higher Call by Adam Makos, Valor Studios' publisher.

With A Higher Call released in more than a dozen countries worldwide, the story of Franz Stigler and Charlie Brown is becoming more popular than ever, even a film is in development!

The detail in "The Guardian" is magnificent from the five crewman visible in the "Ye Olde Pub" to the smoke leaving the chimneys of the German homes below.

This painting is signed on the back by 30 decorated veterans of the air war in Europe! This original oil painting on canvas is sized at 36" x 22", and is sold unframed.

Nicolas Trudgian was born and raised in Plymouth, England. His father and uncle both served in the RAF during WWII and so his childhood was filled with stories about the air war in Britain & beyond.

Nick began showing a real talent for art at an early age and his surroundings gave him the perfect inspiration to fill sketchbooks with drawings of aircraft, ships and also trains. Five years at art college further equipped him with the skills necessary to paint technical subjects with authority and soon commissions came flooding in, mostly illustrations for companies spanning Rolls Royce to Ford.

It was this aspect that no doubt attracted his first aviation art publisher who asked Nick to paint aircraft pictures. It was an instant success and so Nick gave up the commercial illustration work to paint aviation scenes. In the past 20 years Nick has had published more than 150 full size color prints and countless pencil and smaller prints.

His work is collected worldwide and especially in the United States where he has attended numerous art shows and gained many friends. His work has been exhibited, amonst other places, in the Smithsonian, the Pentagon and Britain's Imperial War Museum.