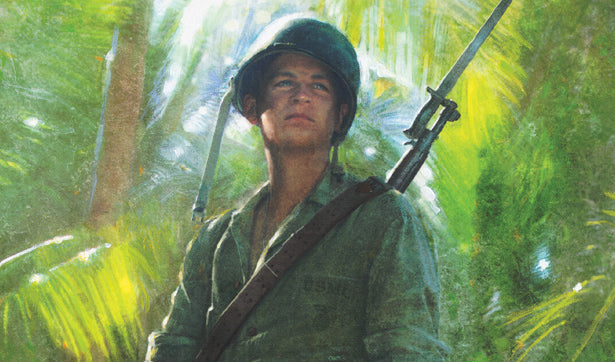 Guadalcanal Marine: Pfc. Sid Phillips by Matt Hall
DESCRIPTION
EDITIONS
SIGNER
Print #1 in our "Portraits of Valor" Series 

Pfc. Sid Phillips knew he was a long way from his home in Mobile, Alabama, when he entered the jungles of Guadalcanal in August 1942. A mortarman with H-Company of the 1st Marines (the same company as Robert Leckie), Sid was 17 years old when he entered combat with the Japanese. Some two years later, when he returned home, the jungle fighting on Guadalcanal and, later, Cape Gloucester, had turned Sid Phillips into an "Old Timer" by Marine standards, and more: he left as a boy, but came home, a man.

Shipping added in checkout // print size: 16" x 20" // ships rolled in a tube




MAIN EDITION
950 limited-edition prints, signed by Matt Hall & Sid Phillips. Includes COA.



Pfc. Sidney Phillips
Sid Phillips joined the Marines at age 17 and found himself fighting in the Pacific War on Guadalcanal as part of H-Company, 2nd Battalion, 1st Marines, 1st Marine Division (H-2-1), the same unit as Helmet for My Pillow author Robert Leckie. Sid has become internationally-known after his notable role in Ken Burns' documentary, The War, and the Tom Hanks/Steven Spielberg miniseries, The Pacific and for his beloved memoir, You'll Be Sor-ree!