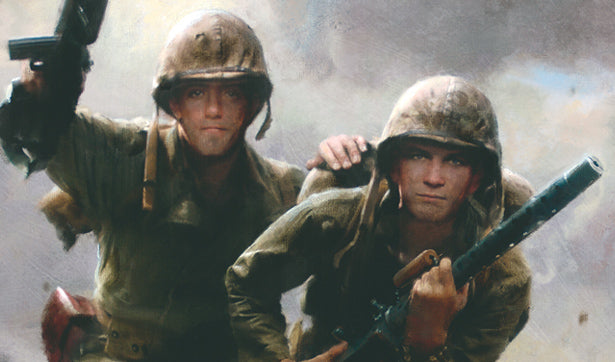 Iwo Jima Marines: John Basilone & Chuck Tatum by Matt Hall
DESCRIPTION
EDITIONS
SIGNER
LESS THAN FIVE REMAIN!

Print #3 in our "Portraits of Valor" Series: As Chuck Tatum, an 18-year-old in B-Co., 27th Marines, 5th Div., clung to Iwo Jima's beach, he was shocked at the sight of a lone Marine, standing tall in the face of enemy fire. That Marine was Gunny John Basilone. Having trained under Basilone, Tatum knew this was a man to follow. Advancing to the island's first airfield together, Tatum and Basilone would encounter and neutralize a heavily-fortified enemy blockhouse, an action that would earn Basilone the Navy Cross, and Tatum, his stripes as a combat Marine.

Shipping added in checkout // print size: 16" x 20" // ships rolled in a tube




MAIN EDITION - Less than 5 remain!
950 limited-edition prints, signed by Matt Hall & Chuck Tatum. Includes COA.


Chuck Tatum
Chuck was a World War II Marine who trained under legendary Medal of Honor recipient Gunnery Sergeant John Basilone and fought with him on Iwo Jima. There, Chuck received the Bronze Star for firing a machine gun from the hip while single-handedly covering the retrieval of two wounded comrades. Chuck's book, Red Blood, Black Sand, is one of four credited sources upon which the HBO miniseries The Pacific is based. Chuck saw his book as a final act of service, so people will never forget the heroes he watched fight, live, and die on "the island that God forgot and gave to the Devil." He passed away in 2014.