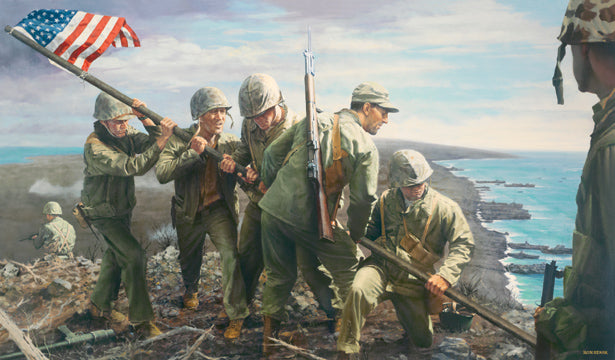 Iwo Jima, the First Flag by Ron Stark
DESCRIPTION
EDITIONS
SIGNERS
VIDEO
February 23, 1945 . . . Atop volcanic Mt. Suribachi, Marines of the 3rd Platoon, Easy Company, 28th Regiment, 5th Marine Division, hoist the first American flag over Iwo Jima. As Old Glory breaks the skyline, a tremendous roar of shouts and whistles will emerge from the Marines on the beaches and the sailors at sea. Later, this flag will be lowered and a replacement raised. Although a photo of the second flag would be cherished by the home front, the first flag belonged to the heroes of Iwo Jima.

Want to know "who" signed which print edition? Click the EDITIONS tab above.

Shipping added in checkout // print size: 32" x 22.5" // ships rolled in a tube


MAIN EDITION - Resale, in mint condition!
Sold out more than a decade ago, this highly-sought-after Main Edition is from an edition of 300 limited-edition prints, signed by artist Ron Stark and two Marines who fought on Iwo Jima. Signing are: Chuck Lindberg (5th Marine Division), who helped raise the first flag and is pictured in the scene along with bonus signer Don Whipple (5th Marine Division), forward artillery observer, who witnessed the flag being raised. Included are two photos of Chuck Lindberg on Iwo, a replica 5th Marine Div. patch (Chuck's unit) and a Certificate of Authenticity.

GALLERY EDITION
Non-limited-edition, signed by artist Ron Stark. Includes a Certificate of Authenticity. 


"Iwo Jima, the First Flag" includes editions hand-signed by WWII heroes! Signers vary print by print. Please click "editions" to see which veterans signed which prints.

CHUCK LINDBERG
Born in Grand Forks, North Dakota, Chuck Lindberg enlisted in the Marine Corps after the attack on Pearl Harbor. He volunteered to join the Marine Raiders, an elite special operations group. He trained with Carlson's Raiders before deploying with the unit to Midway and the New Hebrides island group. On one of his initial sea deployments Lindberg served as a guard on a destroyer that fought and sunk a Japanese submarine. During that fight Lindberg stayed on deck and assisted the destroyer's depth charge crew.

His first land combat took place in November 1942 on Guadalcanal in the Solomon Islands, where he participated in the famous "long patrol," a 31-day Raiders' foray behind Japanese lines. He next fought in the Bougainville campaign in November 1943. Following that battle, on the return trip to the states, he befriended combat veteran Ira Hayes, who like Lindberg had been reassigned to the new Marine 5th Division.

On February 19th, 1945, Lindberg, now a flamethrower operator, and his fellow Marines of 3rd Platoon, Easy Company, 28th Regiment landed with the fifth wave on Iwo Jima. Two days later, Lindberg earned the Silver Star when he participated in a major assault against pillboxes and blockhouses at the base of Mount Suribachi.

The following morning, February 23rd, Lindberg and the other survivors of the 3rd Platoon, secured the top of Mount Suribachi. Lindberg then became part of Marine Corps legend when he and five other Marines raised a pipe with an attached American flag to cheers of Marines & sailors on the island below and on the ships anchored nearby.

The 3rd Platoon moved to the northern front to continue the fight on February 27th. Two days later on March 1st, Lindberg would leave the battle with a serious arm wound. Famed author and Iwo Jima veteran Richard Wheeler said, "he withdrew from the field shaking the fist of his good arm at the concealed sniper."

Following stateside recovery from his wound, Lindberg was discharged from the Marines on January 16, 1946 after over five years of service. His awards include four battle stars for action at Midway, Guadalcanal, Bougainville and Iwo Jima.


KENNETH ESPENES
Kenneth Espenes enlisted in the Marines at age 17 on February 14, 1944, several months short of his high school graduation. Following boot camp he was assigned to Easy Company, 28th Regiment, 5th Marines at Camp Pendelton. As a rifleman with the 3rd Platoon he was wounded on the first day of battle on Iwo Jima by a mortar round. He recovered in time to join the 40-man patrol to the top of Suribachi. He guarded the group with his BAR and watched Lindberg and his platoon mates raise the first flag on what he described as a "very windy day."

Days later, during the 3rd Platoon's fierce battle for Motoyama airfield on March 1st, he was wounded for the second time with a rifle bullet to his right knee. Removed from the island, he later recovered and re-joined what remained of his unit at Camp Tarawa in Hawaii. He participated in the occupation of Japan. Espenes remained in the Marine Reserves after the war and later volunteered for active duty, giving up his disability, during the Korean War. He served as a Staff Sergeant with an artillery unit near Pusan, South Korea. He retired from the Marines in 1956.


KEITH WELLS
John Keith Wells enlisted in the Marines in March 1942. He graduated from Marine Officer's School in April 1943 and Marine Parachute Training School in August 1943. Following deployment on Guadalcanal with the First Marine Regiment in December 1943 he was assigned to the 5th Marine Division at Camp Pendelton. In August 1944 he took command of the 3rd Platoon, Easy Company, 28th Marines. He led the charge against the formidable defenses at the base of Mount Suribachi on February 21, 1945. Twice wounded in that attack, Lt. Wells earned the Navy Cross. His citation would state, "by his leadership and indomitable fighting spirit, 1st Lt Wells contributed materially to the destruction of at least twenty-five Japanese emplacements . . .."

Evacuated from the battlefield, he would later escape his hospital ship to rejoin his unit on the crest of Suribachi following the flag raising. Wells commanded the 3rd platoon until it was ordered to the northern part of island. Despite his requests, LTC Chandler Johnson refused to let Wells go with his men and he again turned command of the 3rd platoon over to Sgt. Ernest "Boots" Thomas, who was killed several days later.

It was Wells, a fellow paratrooper, whom Ira Hayes requested a meeting with to seek advice when the Marine Corps requested that he return to the states for the war bond tour. Wells recalled in his memoir Iwo Jima, Give Me Fifty Marines Not Afraid to Die, "With the invasion of Japan, [The Big Show] looming I felt this would be the last chance he would have to see his parents and his beloved reservation."

Wells is still celebrated in the Marine Corps as the leader of what is believed to be the "most decorated platoon to fight in a single engagement in the history of the Marine Corps." He retired from the Marine Corps Reserves in 1959 with the rank of Major.

In the 1949 Academy Award Winning movie, Sands of Iwo Jima, John Wayne's character, Sergeant Stryker, was an amalgamation of the 3rd platoon's Sgt. Ernest "Boots" Thomas and Wells. In Clint Eastwood's recent movie, Flags of Our Fathers, Wells' was depicted as a fictional "Lt. Bell."


RICHARD WHEELER
Richard Wheeler joined the Marine Corp several days after Pearl Harbor in order to "get into the fight." His father, a WW I combat veteran on hearing of his decision said, "Why did you hesitate?"

Wheeler was immediately sent to Camp Pendleton for boot camp. Following his training he was sent not to the fighting in the Pacific islands but to Alaska where he spent approximately two years serving as a glorified "guard." His "shame" ended when the Marines sent him back to Camp Pendleton to join a unit with a "special assignment." The unit turned out to be the 28th Regiment of the new 5th Marine Division whose assignment would be to assault Iwo Jima.

Wheeler, a Corporal, served as assistant squad leader of the 3rd Platoon's 1st Squad. Two days after D-Day on Iwo Jima, Wheeler would be severely wounded as he participated in the 3rd Platoon's assault at the base of Mount Suribachi. He was evacuated to a hospital ship where he received treatment over two weeks before being transported home. Six months later, Wheeler was medically discharged from the Marine Corps in 1945.

In his post WWII years, Wheeler would establish himself as a celebrated history author. Among the more than 15 titles he wrote were two accounts of his and Easy Company's battles on Iwo Jima. Titled The Bloody Battle for Suribachi & Iwo, Wheeler's books are enjoyed to this day by historians and enthusiasts across the globe. Author James Bradley wrote in Flags of Our Fathers that "If you read one book about the battle of Iwo Jima, this is the one (The Bloody Battle for Suribachi)."


JAMES RIGNEY
James "Jim" Rigney enlisted in the Navy on March 31, 1944 and soon after volunteered for the Marines. Following boot camp at Paris Island he was assigned to the 31st Replacement Battalion of the 5th Division at Camp Pendelton. On D-Day at Iwo Jima, Rigney stormed ashore in the initial assault, working amidst the carnage at the beaches until he was assigned as a rifleman to Easy Company's 3rd Platoon on March 5th.

He fought with the unit to Kitano Point where he was severely wounded by a mortar blast on March 22nd, which caused a loss of sight. Evacuated to a hospital ship he later recovered sight in one eye. Pfc. Rigney was forced to leave the Marines to complete his recovery stateside in July 1945. To this day he is proud of his service, especially his association with the famed 3rd Platoon, Easy Company, 28th Regiment, 5th Marines.


WILLIAM WAYNE
Born in Bridger, Montana, Wayne volunteered for the Marines in January 1944 at a processing center in St. Louis, MO. Fellow Marine John Scheperle was also one of the six men to enter the service that day. Following boot camp in San Diego he was assigned to the newly formed 5th Marine Division at Camp Pendleton. He soon found himself in the 3rd Platoon, of Easy Company, as a BAR gunner.

By "some miracle" Wayne escaped serious injury in the D-Day landing on Iwo Jima and during the initial crossing of the island on the second day. His luck ran out when was seriously wounded in the heroic charge of the 3rd Platoon against the Japanese fortifications at the base of Mount Suribachi. Evacuated to a hospital ship for treatment of his leg wounds he eventually completed his recovery in Hawaii and would participate in the occupation of Japan. Wayne was discharged from the Marines in May 1946 at the rank of Sergeant.





Chuck Lindberg and the first flag raising on Iwo Jima appear in the celebrated film, "Flags of Our Fathers," by Clint Eastwood. Enjoy the trailer below.