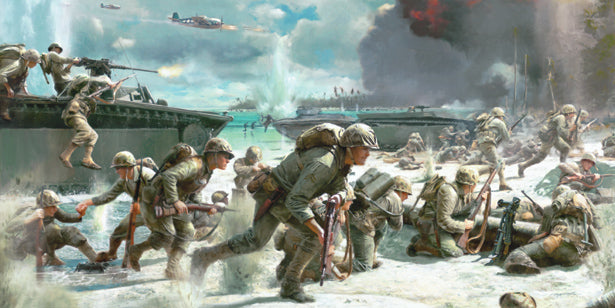 Off the Beach! by Matt Hall
DESCRIPTION
EDITIONS
SIGNERS
VIDEO
The first release in our Marines of the Pacific series!

It is 8:30 a.m. on September 15, 1944 as the Marines of King Company churn onto Peleliu. Vehicle exhaust, gun smoke, and burning vegetation choke the air as Japanese artillery and mortars pound the pre-sighted beaches. Machine gun bullets rip across the sand as Eugene Sledge, in his baptism of fire, trails veteran R.V. Burgin.

Sent to capture Peleliu's airfield from an enemy of unknown strength, the men of K-3-5 and their brothers of the 1st Marine Division know they are in the fight of their lives. But, for now, only one thought echoes through their minds: Get off the beach!

Want to know "who" signed which print edition? Click the EDITIONS tab above.

Shipping added in checkout // print size: 31" x 19" // ships rolled in a tube


PUBLISHER PROOF - Resale, in mint condition!
Sold out for years, this highly-desired Publisher Proof print is from an edition of 140 limited-edition prints, signed by artist Matt Hall and 9 Peleliu veterans whose units were shown in The Pacific mini-series. From Sledge's K-Company are: Jim Anderson, R.V. Burgin, Jim Burke, Jesse Googe, Dan Lawler, Sterling Mace and Jim McEnery. From Robert Leckie's H-Company is Jim Young. From M-Company is flamethrower operator Red Womack. Includes two photos taken on Peleliu, a 1st Marine Div. pin and a COA with "History Behind the Art."

VICTORY EDITION - LOW SUPPLY! Less than 30 remain!
500 limited-edition prints, signed by Matt Hall and 2 Peleliu veterans whose units were shown in The Pacific mini-series: R.V. Burgin, the squad leader of Sledge & SNAFU Shelton, and Jim Young, who served with Leckie & Phillips in H-Company. Includes two photos showing Marines on Peleliu, a 1st Marine Div. patch and a COA with "History Behind the Art."

ARTIST PROOFS - Sold Out
160 limited-edition prints

OTHER EDITIONS
A canvas giclee edition may be released. A Signer Proof edition exists, not-for-sale. 


"Off the Beach!" is hand-signed by a collection of WWII heroes! Signers vary print by print. Please click "editions" to see which veterans signed which prints.

Jim Anderson, Jim Burke, and R.V. Burgin are on the K-Company "Roll of Honor" as 3 of only 26 Peleliu veterans of K-3-5 still standing by the end of the Okinawa Campaign.

Jim Young was a member of H-2-1, the same Company as Robert Leckie, and he fought with Leckie for the same Peleliu airfield as the men of K-3-5.

"Red" Womack of M-3-5 is the flamethrower operator shown in Episode 7 of HBO's The Pacific, who burns out a bunker under Burgin's direction. Womack floated between units and considers himself as close to K-3-5 as any.

Jesse Googe and Jim McEnery represent an "Old Breed" within K-3-5, as each fought on the 'Canal with men like Capt. Andrew Haldane and Gunney Elmo Haney in the battles where the rock of K-3-5 was formed.

Dan Lawler and Sterling Mace, like Eugene Sledge, famously served with the Old Breed at Peleliu and Okinawa and saw more combat in those two campaigns than any man would ever wish to endure. But endure they did.

Valor Studios is honored to have this distinguished Marine "Band of Brothers" to inaugurate our new print series!



Enjoy this short production made by HBO about "Off the Beach!" signer R.V. Burgin . . .