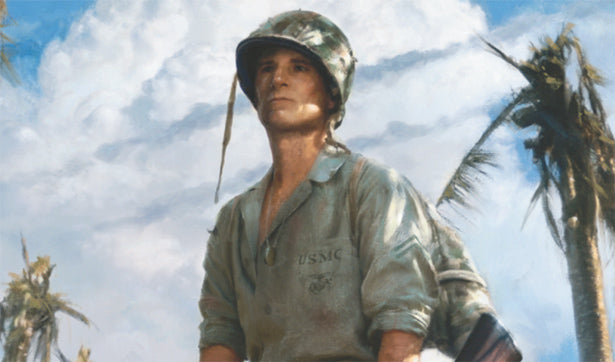 Peleliu Marine: Cpl. R.V. Burgin by Matt Hall
DESCRIPTION
EDITIONS
SIGNER
LESS THAN 20 REMAIN!

Print #2 in our "Portraits of Valor" Series: When 20-year-old R.V. Burgin joined K-3-5 of the 1st Marine Division in June 1943, the unit's 'Canal veterans took him under wing. Their tutelage and R.V.'s Texan toughness gave him an edge on New Britain. By the Peleliu battle, R.V. was a corporal and mortar section leader. R.V. would later become a sergeant and fight on Okinawa. By the war's end, he received the Purple Heart, Bronze Star, and the admiration of Marines like Eugene Sledge, who said R.V. was, ". . . as fine a sergeant as I ever saw."

Shipping added in checkout // print size: 16" x 20" // ships rolled in a tube




MAIN EDITION - Less than 20 remain!
950 limited-edition prints, signed by Matt Hall & R.V. Burgin. Includes COA.



Sgt. R.V. Burgin
Burgin was the squad leader of Eugene Sledge and SNAFU Shelton with K-Company, 3rd Battalion, 5th Marine Regiment, 1st Marine Division (K-3-5). Burgin fought at Cape Gloucester, Peleliu, and Okinawa, where he was awarded the Bronze Star. He was featured in Eugene Sledge's classic book With the Old Breed and portrayed in the HBO miniseries The Pacific. Burgin is the author of Islands of Damned: A Marine at War in the Pacific.