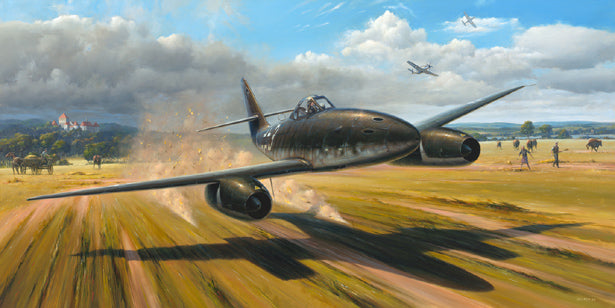 Outrun the Eagles by Gareth Hector
DESCRIPTION
EDITIONS
SIGNERS
PAYMENT PLAN
April 1945: Minutes before, Franz Stigler and his comrades of JV 44 were high over Bavaria, ready to attack a formation of B-17s—until the P-51s arrived. Outnumbered and outgunned by the escort fighters, Franz fled, but the P-51s gave chase. Diving like a bullet, Franz pushed his jet to 625 mph, past its red line. As the earth neared, he tried to pull up, but the stick was locked in an "evil spell." Pinned by Gs, Franz realized: I just killed myself.

Then, he thought he heard a voice: Kick the rudder! Franz obeyed, kicking the rudder pedals until the jet's tail wagged and the control stick freed. Now, having regained control at "0" altitude, Franz finally outruns the P-51s. As he blasts over a field, farmers watch as the jet's exhaust burns the hay that they've laid out for their animals. With the Danube slipping past, Franz curses himself for flying so recklessly while thanking God for flying with him.

Want to know "who" signed which print edition? Click the EDITIONS tab above.

Shipping added in checkout // print size: 32" x 20" // ships rolled in a tube


ARTIST PROOF
160 limited-edition prints, signed by Gareth Hector. Includes five fighter pilot signatures: Me 262 pilot Franz Stigler (autographed separate card in marker), P-51 "Jet Victory" pilots Joe Peterburs (20th FG) & Wayne Coleman (78th FG) and German pilots Jorg Czypionka (Me 262) and Harold Bauer (He 162 jet & later US Navy!) Includes COA with "History Behind the Art"

VICTORY EDITION - Temporarily sold out - email us to be on the waiting list
190 limited-edition prints, signed by Gareth Hector and the following fighter pilots: P-51 "Jet Victory" pilot Joe Peterburs, who shot down famed German ace Walter Schuck and Bf 109 & Me 262 pilot Jorg Czypionka. Includes COA with "History Behind the Art"

PUBLISHER PROOFS - Sold Out
140 limited-edition prints

OTHER EDITIONS
A Signer Proof edition of 50 prints exists, not-for-sale. A giclee edition of 45 canvases may be released.


"Outrun the Eagles" is hand-signed by a collection of WWII heroes! Signers vary print by print. Please click "editions" to see which veterans signed which prints.

LIEUTENANT FRANZ STIGLER 
(Franz's extracted signature comes with the Publisher & Artist Proofs) Franz began flying at age 12 and later became a Lufthansa Captain, before joining the Luftwaffe. Franz flew combat as a Bf 109 squadron commander with JG 27. He was hand picked as the technical officer of Gen. Galland's elite JV 44, "Squadron of Experts," flying the Me-262 and is depicted in "Outrun the Eagles." Franz was credited with 28 confirmed victories during more than 487 combat missions. He was made an honorary member of the 379th BG Association, in honor of his sparing of the B-17 "Ye Olde Pub," described by Franz in the video below.



COMMANDER HARALD BAUER
Born in the US Embassy in Berlin to an American mother and German father, Harald was raised in Germany and became a 17-year-old Luftwaffe ferry pilot, flying the new He 162 "Salamander" jet. On March 24, 1945, Harald's jet was shot down by P-51 Mustangs and he was captured by American forces, who helped him recover from his injuries. After the war, Harald came to America and joined the Navy, becoming a reconnaissance pilot during the Korean War. Leaving the Navy as a Commander, he would become a journalist working with the Associated Press and UPI.

CAPTAIN WAYNE COLEMAN
Wayne flew 75 combat missions as part of the 78th Fighter Group, based at Duxford, England. He first piloted the P-47 and later the P-51D Mustang. It was during a B-17 escort mission to Germany on March 31, 1945, that Wayne heard over the radio that enemy jets were in the area. Soon after, he sighted a lone Me 262 below him and did a "Split S" maneuver to catch the jet. Once in gun range, Wayne hit the Me 262 along the canopy and right engine causing it to flip and dive into the ground, earning him the last of four victories he scored during the war.

LIEUTENANT JORG CZYPIONKA
Jorg joined the Luftwaffe in 1939 to pursue his dream of flying. He became an instructor and later a fighter pilot, first flying the Bf 109, and then the Me 262, as a night fighter against British bombers. As the war neared its end, Jorg flew off the autobahns near the Danish border until his squadron turned their aircraft over to the British instead of destroying them. In the years after the war, he first worked as a typewriter repairman and eventually attended university, became a textile engineer, and started a new life in America. In 2011, Jorg was a technical adviser on the book "A Higher Call."

MASTER SERGEANT KARL EVERS
Born in Kiel, Germany, Karl became a skilled machinist making U-Boat parts after his middle school was destroyed by allied bombing. Having flown gliders since the age of nine, Karl then joined the Luftwaffe to become a pilot and was trained with JG 103 in both the Bf 109 and Fw 190. When the Soviet army neared his training base at Stolp-Reitz in 1945, he and his fellow aviators were transferred into the infantry and Karl became a mortar man. In 1951, Karl immigrated to America and joined the US Army, serving during the Korean War with the 94th Engineer Battalion and retiring as a Master Sergeant.

GERNOT HEINRICHSDORFF
The son of Europe's first female landscape architect, Gernot grew up in a household that hid three Jewish children during the war. In 1943, Gernot was drafted and enrolled in the Air Force academy near Dresden, the same school that Franz Stigler had instructed at. At age 18, Gernot took flight training near Vienna, where he piloted the Bf 109, before becoming an infantryman due to lack of fuel for flying. He then fought the Soviets near Vienna until wounded. In 1958, Gernot came to America, with the help of the Jewish children his mother had saved, and became a successful landscape designer.

COLONEL JOSEPH PETERBURS
At the age of 19, Joe was flying combat as a P-5 pilot in the 20th FG. It was on an April 10, 1945 escort mission that Joe pursued an Me 262 and shot at it before the plane vanished into clouds. Soon after, on the same mission, Joe was shot down while strafing an airfield. Protected from a mob by Luftwaffe personnel, Joe survived the war and years later learned that the Me 262 he hit had crashed and its pilot, Walter Schuck (206 victories), survived. Joe and Walter would eventually reunite and become good friends with Walter crediting Joe with saving his life by giving him an injury that kept him out of the war.


We've teamed up with the leading e-commerce company, Partial.ly, to offer you a 0% interest, six-month payment plan on the "Outrun the Eagles" Artist Proof! To start your plan, please read our terms below and click the Partial.ly button to begin.

If you wish to put multiple items on payment plan please email us at staff@valorstudios.com and we'll create a custom Partial.ly plan for you.

PAYMENT PLAN TERMS
- Payments are automatically processed each month by Partial.ly.
- Payments are non-refundable.
- Your print will ship upon completion of your payment plan.