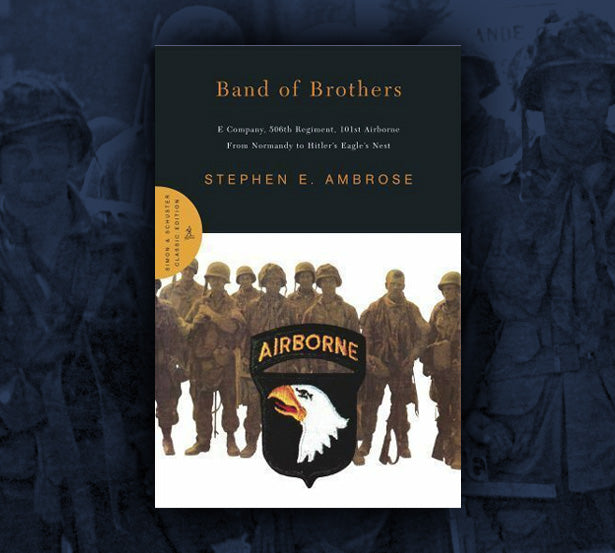 "Band of Brothers" autographed by Easy Company paratroopers
DESCRIPTION
ABOUT THE BOOK
TRAILER
We're excited to offer the classic bestselling book, Band of Brothers, with the autographs of the actual Easy Company paratroopers whose stories come to life on the pages inside. We have a limited-number of hardbacks, with two different autographed options:

7 SIGNATURE EDITION - Only 6 remain!
Features the autographs of seven Easy Company paratroopers, many of whom are featured within the book itself: "Wild Bill" Guarnere, Don Malarkey, Forrest Guth, Babe Heffron, Earl McClung, Ed Tipper and Rod Strohl.

BOOKPLATE EDITION
Features our custom bookplate, mounted inside, autographed by Band of Brothers paratroopers Al Mampre, Earl McClung and Ed Tipper.

Includes a COA // shipping added in checkout // ships bubble wrapped & boxed


Band of Brothers: Stephen Ambrose's iconic story of the ordinary men who became the World War II's most extraordinary soldiers - Easy Company, 506th Parachute Infantry Regiment, 101st Airborne Division, US Army.

They came together, citizen soldiers, in the summer of 1942, drawn to Airborne by the $50 monthly bonus and a desire to be better than the other guy. And at its peak—in Holland and the Ardennes—Easy Company was as good a rifle company as any in the world.

This is the story of the men who fought, of the martinet they hated who trained them well, and of the captain they loved who led them. E Company was a company of men who went hungry, froze, and died for each other, a company that took 150 percent casualties, a company where the Purple Heart was not a medal—it was a badge of office.

Enjoy the official trailer for the mini-series Band of Brothers, based on Ambrose's renowned book!