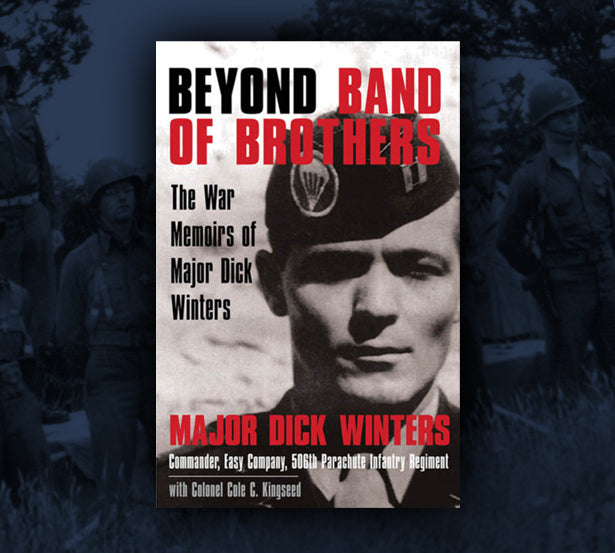 "Beyond Band of Brothers" with Easy Company autographed bookplate
DESCRIPTION
ABOUT THE BOOK
TRAILER
We have the bestselling book Beyond Band of Brothers: The War Memoirs of Major Dick Winters available with a bookplate designed exclusively for Valor Studios that has been hand-autographed by Easy Company, 506th PIR, 101st Airborne paratroopers Al Mampre, Earl McClung and Ed Tipper, all soldiers who served under Major Dick Winters during WWII. 

Includes a COA // shipping added in checkout // ships bubble wrapped & boxed


"Tells the tales left untold by Stephen Ambrose, whose Band of Brothers was the inspiration for the HBO miniseries...laced with Winters's soldierly exaltations of pride in his comrades' bravery."—Publishers Weekly
 
They were called Easy Company—but their mission was never easy. Immortalized as the Band of Brothers, they suffered 150% casualties while liberating Europe—an unparalleled record of bravery under fire. Winner of the Distinguished Service Cross, Dick Winters was their legendary commander. This is his story—told in his own words for the first time.
 
On D-Day, Winters assumed leadership of the Band of Brothers when its commander was killed and led them through the Battle of the Bulge and into Germany—by which time each member had been wounded. Based on Winters's wartime diary, Beyond Band of Brothers also includes his comrades' untold stories. Virtually none of this material appeared in Stephen Ambrose's Band of Brothers. Neither a protest against nor a glamorization of war, this is a moving memoir by the man who earned the love and respect of the men of Easy Company—and who is a hero to new generations worldwide.

Enjoy the official trailer for the mini-series Band of Brothers, based on Ambrose's renowned book!