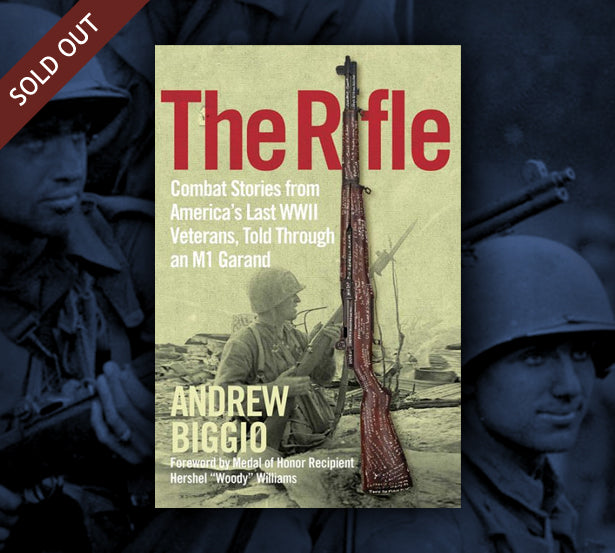 "The Rifle" with WWII hero autographed bookplate
DESCRIPTION
ABOUT THE BOOK
We have the hardback book The Rifle available with a bookplate designed exclusively for Valor Studios that has been autographed by 87th ID Silver Star recipient Ernie Roberts, who is the subject of the book's Chapter 2, along with the book's author, Marine veteran Andrew Biggio. Please note that each book bears minor "battle damage" on the dust jacket (see product photo for example). 

Includes a COA // shipping added in checkout // ships bubble wrapped & boxed


It all started because of a rifle.

The Rifle is an inspirational story and hero's journey of a 28-year-old U.S. Marine, Andrew Biggio, who returned home from combat in Afghanistan and Iraq, full of questions about the price of war. He found answers from those who survived the costliest war of all -- WWII veterans.

It began when Biggio bought a 1945 M1 Garand Rifle, the most common rifle used in WWII, to honor his great uncle, a U.S. Army soldier who died on the hills of the Italian countryside. When Biggio showed the gun to his neighbor, WWII veteran Corporal Joseph Drago, it unlocked memories Drago had kept unspoken for 50 years. On the spur of the moment, Biggio asked Drago to sign the rifle. Thus began this Marine's mission to find as many WWII veterans as he could, get their signatures on the rifle, and document their stories.

For two years, Biggio traveled across the country to interview America's last-living WWII veterans. Each time he put the M1 Garand Rifle in their hands, their eyes lit up with memories triggered by holding the weapon that had been with them every step of the war. With each visit and every story told to Biggio, the veterans signed their names to the rifle. 96 signatures now cover that rifle, each a reminder of the price of war and the courage of our soldiers.