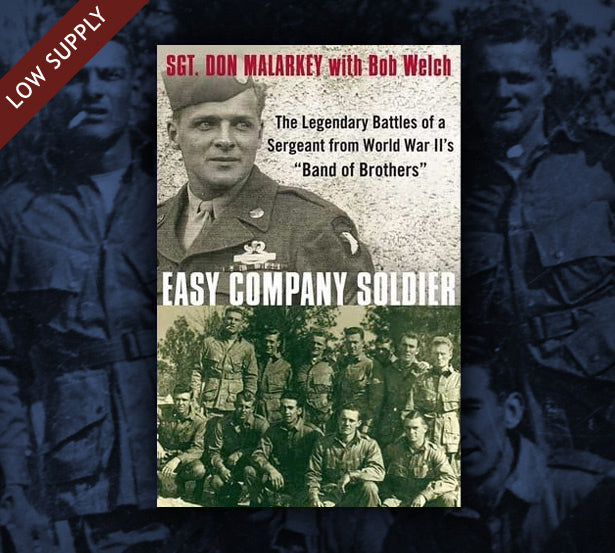 "Easy Company Soldier" autographed by Don Malarkey
DESCRIPTION
ABOUT THE BOOK
We're excited to offer the last copies we have of Don Malarkey's beloved book, Easy Company Soldier. Each hardback bears the autograph of Don, in pen, and some versions include the autographs of his fellow Easy Company paratroopers:

5 SIGNATURE EDITION - Only 1 remains!
Hand-signed by E-Co. paratroopers Don Malarkey, Buck Compton, Earl McClung, Ed Tipper and one more E-Co. veteran. 

3 SIGNATURE EDITION - Less than 4 remain!
Hand-signed by E-Co. paratroopers Don Malarkey, Ed Tipper and one more E-Co. veteran.

1 SIGNATURE EDITION - Only 2 remain!
Hand-signed by Don Malarkey.

Includes a COA // shipping added in checkout // ships bubble wrapped & boxed

Elite paratrooper Sgt. Don Malarkey takes us not only into the World War II battles fought from Normandy to Germany, but into the heart and mind of a soldier who lost his best friend during the nightmarish engagement at Bastogne.

Drafted in 1942, Malarkey arrived at Camp Toccoa in Georgia and was one of the one in six soldiers who earned their Eagle wings. He went to England in 1943 to provide cover on the ground for the largest amphibious military attack in history: Operation Overlord. In the darkness of D-day morning, Malarkey parachuted into France and within days was awarded a Bronze Star for his heroism in battle. He fought for twenty-three days in Normandy, nearly eighty in Holland, thirty-nine in Bastogne, and nearly thirty more in and near Haugenau, France, and the Ruhr pocket in Germany.

Easy Company Soldier is his dramatic tale of those bloody days fighting his way from the shores of France to the heartland of Germany, and the epic story of how an adventurous kid from Oregon became a leader of men.