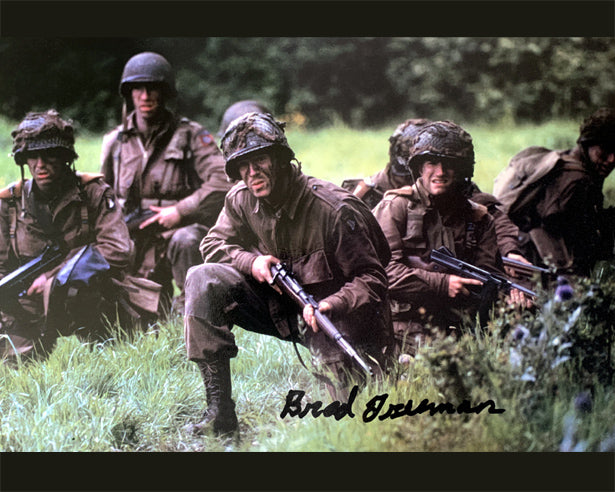 "Lt. Dick Winters on D-Day" photo autographed by Brad Freeman
DESCRIPTION
SIGNER

PHOTO CARE
This color photo, taken on the set of "Band of Brothers," shows Lt. Dick Winters (actor Damian Lewis) as he leads his fellow paratroopers on D-Day morning. This photo is autographed in black marker by famed Band of Brothers paratrooper Brad Freeman, who fought alongside Winters on D-Day, and beyond, as a paratrooper in Easy Company.

We were fortunate to host Brad at our Valor Studios stand during the 2018 "Show of Shows" militaria event where he signed a small number of these photos. They quickly sold-out at the show but not before we reserved a small number to later make available to our collectors. We're excited to say that day has arrived so orders yours now before they're history!

Shipping added in checkout // photo size: 8" x 10" // ships flat in a heavy-duty envelope


BRAD FREEMAN
Bradford Freeman was born and raised in the lush Mississippi farmlands of Lowndes County, near Columbus. He was one of 8 children, 3 of whom fought in the war. After high school graduation he enrolled in Mississippi State University, which he attended for one semester before enlisting in the US Army on December 12, 1942.

He joined the paratroopers, following in the footsteps of his older brother, who became an officer in the 11th Airborne. Freeman was assigned to the 506th PIR., 101st Airborne at Alderbourne, England in February 1944. There, he trained under the watchful eye of mortar squad leader Don Malarkey and platoon leader Bill Guarnere, both of whom he describes as great fighting men.

On D-Day, Freeman parachuted into Normandy in Malarkey's stick, forming up and fighting with Sgt. Chuck Grant until they joined the company near Brecourt Manor. Freeman vividly remembers the fierce fighting at Carentan, where he feels E-Company came together as a combat unit.

Freeman participated in the invasion of Holland, and recalls endless patrols and "scary" night outpost duty on the banks of the Rhine. Following Market Garden Freeman survived the brutal weather and constant shelling in the Bois Jacques woods at Bastogne only to be wounded by a "screaming mimi" (Nebelwerfer rocket) in Easy Company's attack on Foy. Following release from a hospital in England, Freeman joined up with HQ Staff in Berchtesgaden in April 1945, and later with his E-Company comrades in Kaprun, Austria.

After the war Brad Freeman went back to Mississippi State University for a semester, and then returned to help run a 197 acre family farm in Lowndes County. He later worked with the US Postal Service, retiring after 32 years of service.


We recommend that all autographed items be displayed or stored using archival quality, acid free materials away from any moisture or strong light exposure. When framing art/photographs/posters, we recommend locating a framer who is familiar with archival framing, has a storefront so you can see examples of their work, is not within a big box store, and has full insurance in the event an accident occurs while framing your item.

UV blocking glass/acrylic, spacers, and acid free framing materials must be used to protect the image and signatures. Fading can occur even if an item is not displayed in direct sunlight (even a light bulb omits UV rays) so UV blocking glass/acrylic is necessary. Acid free spacers or mat board must also be utilized to prevent the signatures from direct contact with the top layer of glass/acrylic. If a signature is pressed against the clear material it will lift off the photo/poster/print and deteriorate.

In order to retain full value of your item, your art or collectible should be able to be removed from its frame or storage container and still be in the same original condition as it was when purchased from Valor Studios.

If you decide to store one of our art prints/collectibles without getting it framed, then we recommend flat storage in either an acid free art sleeve or between pieces of acid free foam core. The item should be stored in a dark and dry location, several inches off the floor. We do not recommend storing prints/posters/photos in tubes for any extended length of time.