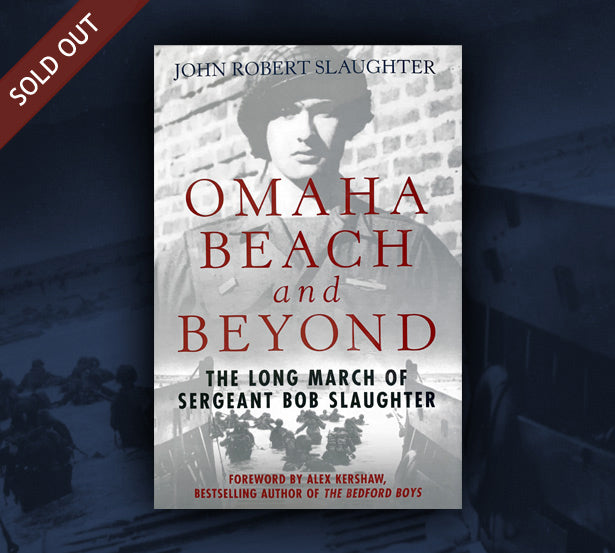 "Omaha Beach and Beyond" autographed by Bob Slaughter
DESCRIPTION
ABOUT THE BOOK
SIGNER
VIDEO
We have a small number of Omaha Beach and Beyond hardbacks, each autographed in pen by author & 29th Division D-Day survivor Robert Slaughter, who would later spearhead the creation of the National D-Day Memorial in Bedford, VA. 

Includes a COA // shipping added in checkout // ships bubble wrapped & boxed

"Slaughter vividly conveys the reality of combat during World War II in his book with sweeping passages that literally place his reader on the battlefield beside him." - Belvoir Eagle

Before D-Day, regular army soldiers called the National Guardsmen of Virginia's 116th Infantry Regiment "Home Nannies" and "Weekend Warriors" and worse.

On June 6, 1944, on Omaha Beach, however, these proud Virginians who carried the legacy of the famed Stonewall Brigade showed the regular army and the world what true valor really was.

In this moving World War II memoir, the author captures the life of GI Joe from pre-Pearl Harbor days through training, deployment overseas, and more training. All leads up to D-Day and Normandy on June 6, 1944, when Sergeant Bob Slaughter came across Omaha Beach with Company D of the 116th Infantry and the Bedford Boys.

John Robert Slaughter enlisted in the Virginia National Guard well before Pearl Harbor in early 1941 at the age of sixteen. Just twenty at the end of the war, in 1947 he married and settled in Roanoke, Virginia. Upon his retirement from the Roanoke Times in 1987, Slaughter, who had become active in veterans affairs over the years, started to work on the creation of a memorial to commemorate the sacrifice of the American soldiers at Normandy. On June 6, 2001, the National D-Day Memorial was dedicated.


Bob Slaughter landed on Omaha Beach as part of D-Co., 116th Infantry, 29th Division. The Omaha Beach landing is graphically portrayed in the film Saving Private Ryan and you can watch it below. Viewer discretion is advised.