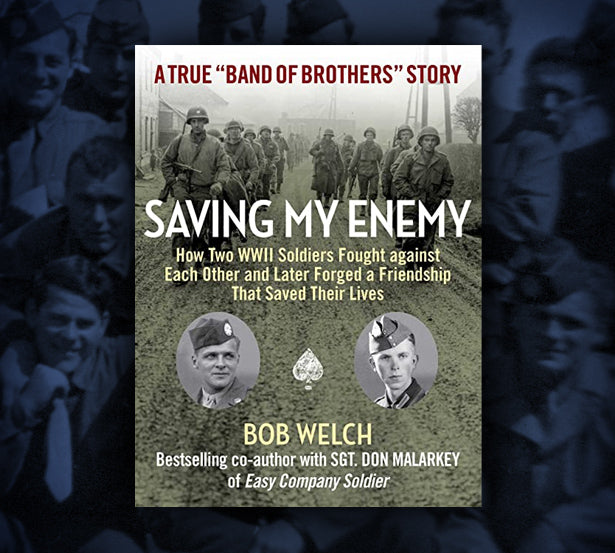 "Saving My Enemy" with Don Malarkey signed bookplate
DESCRIPTION
ABOUT THE BOOK
When we brought Don Malarkey and his Band of Brothers over to Europe in 2004 for a morale-boosting visit to US Army bases, we never could have imagined that he would reunite with a former foe and develop an unlikely friendship that would help them both heal from the trauma of war.

Now, we're pleased to offer hardcover first-editions of the new book Saving My Enemy, that tells this incredible story, complete with two bookplate options: 

EAGLE EDITION - IN LOW SUPPLY
Includes a bookplate mounted inside signed by Don himself, along with fellow E-Company paratroopers Earl McClung, Brad Freeman and Al Mampre.

CURRAHEE EDITION - IN LOW SUPPLY
Includes a bookplate mounted inside signed by E-Company paratrooper Brad Freeman, who served alongside Don Malarkey in his mortar squad. 

Includes a COA // shipping added in checkout // ships bubble wrapped & boxed

Saving My Enemy is a "Band of Brothers" sequel like no other.

Guilt nearly killed one of the celebrated "Band of Brothers" members, Sgt. Don Malarkey. He was a hero for his service in World War II, especially in the Battle of the Bulge, yet he came to the brink of suicide, haunted by the memories of the German soldiers he killed.

Across the ocean, Fritz Engelbert was shackled in shame for having been a pawn of Hitler--he  too had fought in the Battle of the Bulge--but for the Germans. He could not find peace.

Saving My Enemy is the touching true story of two soldiers on opposite sides of WWII whose unlikely friendship, forged in their 80s, dissolves six decades of guilt and shame that had pushed both men to despair.

Malarkey and Engelbert had completely different backgrounds but their stories collided amid the largest and bloodiest single battle fought by the USA in WWII--the Battle of the Bulge.

Beneath blankets of snow, the earth was hardened like iron. With temperatures dipping below zero degrees Fahrenheit, the conditions were as brutal as any in the history of warfare. This was Germany's last hope to stop the Allies and they were desperate for victory.

On opposite sides of the Ardennes forests hunker two young men---an American, Don Malarkey, and a German, Fritz Engelbert. Fritz, 19, a private in the Panzer-Lerh-Division, had the chief duty of being a krad messenger (on a military motorcycle).

Don, 23, is a sergeant in E Company, 506th Regiment, and is living in a foxhole in the woods overlooking villages below where Fritz and other German soldiers are awaiting the fight. Both men took quiet moments of introspection. Fritz remembered a dead American soldier he saw alongside the road and he "thought of his parents who would miss him dearly" and he felt a certain "brotherhood with the enemy."

Two weeks later, as Easy Company pushed Germany back, Don had a similar experience--- he had just shot and killed a German soldier and was shocked to find he was only 16. "I looked at his face, eyes fixed forever. A face that I wouldn't forget. Not the next day. Not the next month. Not ever."

Welch gives intimate glimpses into these men's souls as they fought each other during the war, lived in despair and guilt in the decades that followed, and finally found forgiveness and peace through each other. Don and Fritz's miraculous friendship dissolved 60 years of guilt and their story is one of hope and inspiration that will not be forgotten.