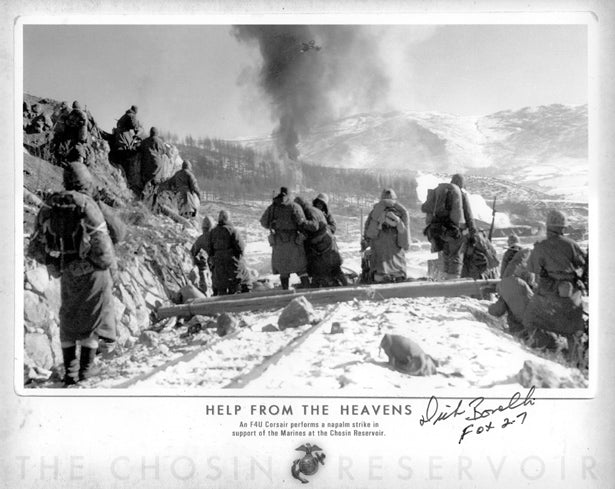 "Help From the Heavens" photo autographed by Dick Bonelli
DESCRIPTION
SIGNERS

PHOTO CARE
A Navy F4U-4 Corsair performs a napalm strike in support of the Marines at the Chosin Reservoir, December 1950.

This photo is autographed in black marker by Silver Star recipient Richard Bonelli, one of the legendary Marines who fought on "Fox Hill" during the Battle of the Chosin Reservoir.The photo features an exclusively designed vintage motif.

Shipping added in checkout // photo size: 8" x 10" // ships flat in a heavy-duty envelope


RICHARD BONELLI
19-year-old Dick Bonelli was one of the 220 Fox Company Marines who helped hold the Tokfong Pass, a vital corridor needed so 8,000 of their fellow Marines could escape south from the Chinese onslaught. Over a five day period, Bonelli and the men of Fox Company would fend off an entire Chinese regiment. For his actions in combat, he would be awarded the Silver Star and Purple Heart.


We recommend that all autographed items be displayed or stored using archival quality, acid free materials away from any moisture or strong light exposure. When framing art/photographs/posters, we recommend locating a framer who is familiar with archival framing, has a storefront so you can see examples of their work, is not within a big box store, and has full insurance in the event an accident occurs while framing your item.

UV blocking glass/acrylic, spacers, and acid free framing materials must be used to protect the image and signatures. Fading can occur even if an item is not displayed in direct sunlight (even a light bulb omits UV rays) so UV blocking glass/acrylic is necessary. Acid free spacers or mat board must also be utilized to prevent the signatures from direct contact with the top layer of glass/acrylic. If a signature is pressed against the clear material it will lift off the photo/poster/print and deteriorate.

In order to retain full value of your item, your art or collectible should be able to be removed from its frame or storage container and still be in the same original condition as it was when purchased from Valor Studios.

If you decide to store one of our art prints/collectibles without getting it framed, then we recommend flat storage in either an acid free art sleeve or between pieces of acid free foam core. The item should be stored in a dark and dry location, several inches off the floor. We do not recommend storing prints/posters/photos in tubes for any extended length of time.