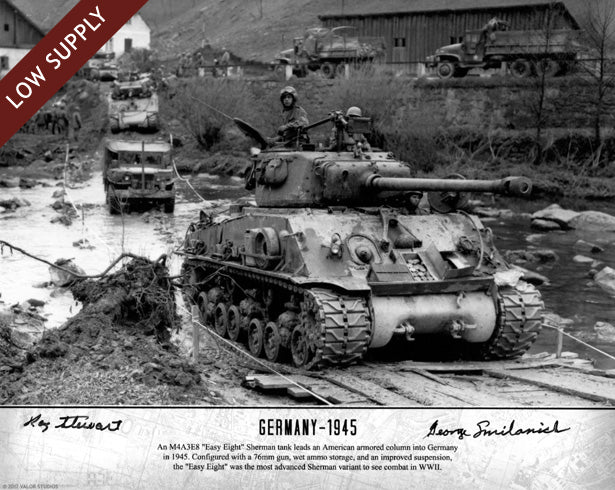 "Germany 1945" photo autographed by FURY tankers
DESCRIPTION
SIGNERS

PHOTO CARE
An M4A3E8 "Easy Eight" Sherman leads an armored column into Germany in 1945. Configured with a 76mm gun, wet ammo storage, and an improved suspension, the "Easy Eight" was the most advanced Sherman variant to see combat in WWII.

This photo is autographed in black marker by two Sherman tank drivers in the "Hell on Wheels" 2nd Armored Division who also consulted on the film FURY: George Smilanich and Ray Stewart.

Shipping added in checkout // photo size: 8" x 10" // ships flat in a heavy-duty envelope

LOW SUPPLY - ONLY A FEW REMAIN!

GEORGE SMILANICH
A Sherman driver in the 2nd Armored Division, George spent three years in that role as he fought from Sicily, France, Belgium and into Germany, even earning the Bronze Star for when he pulled his incapacitated tank commander from their burning tank. In 2013, George was flown to Hollywood to sit down with an actor who would play a 2nd Armored Division tank commander. George recalled his first thought upon hearing of the invite, "I said, 'Who the hell is Brad Pitt?'" 

RAY STEWART
As a 19-year-old Sherman driver, Ray's entry into combat began in June 1944 when his division, the 2nd Armored, entered the fray in Normandy. He fought with the men of "Hell on Wheels" on a 1,000 mile journey from Normandy through the occupation of Berlin in 1945. Along the way had two of his tanks destroyed in combat. In 2013 Ray was flown to Hollywood to help prepare the FURY actors to portray tankers from his division. "Brad Pitt's a nice guy – all of them were all right," he would recall in a newspaper interview. "We fought the war over again right in front of those movie guys. We looked around and saw them sitting there with their mouths open. They seemed sort of flabbergasted."


We recommend that all autographed items be displayed or stored using archival quality, acid free materials away from any moisture or strong light exposure. When framing art/photographs/posters, we recommend locating a framer who is familiar with archival framing, has a storefront so you can see examples of their work, is not within a big box store, and has full insurance in the event an accident occurs while framing your item.

UV blocking glass/acrylic, spacers, and acid free framing materials must be used to protect the image and signatures. Fading can occur even if an item is not displayed in direct sunlight (even a light bulb omits UV rays) so UV blocking glass/acrylic is necessary. Acid free spacers or mat board must also be utilized to prevent the signatures from direct contact with the top layer of glass/acrylic. If a signature is pressed against the clear material it will lift off the photo/poster/print and deteriorate.

In order to retain full value of your item, your art or collectible should be able to be removed from its frame or storage container and still be in the same original condition as it was when purchased from Valor Studios.

If you decide to store one of our art prints/collectibles without getting it framed, then we recommend flat storage in either an acid free art sleeve or between pieces of acid free foam core. The item should be stored in a dark and dry location, several inches off the floor. We do not recommend storing prints/posters/photos in tubes for any extended length of time.