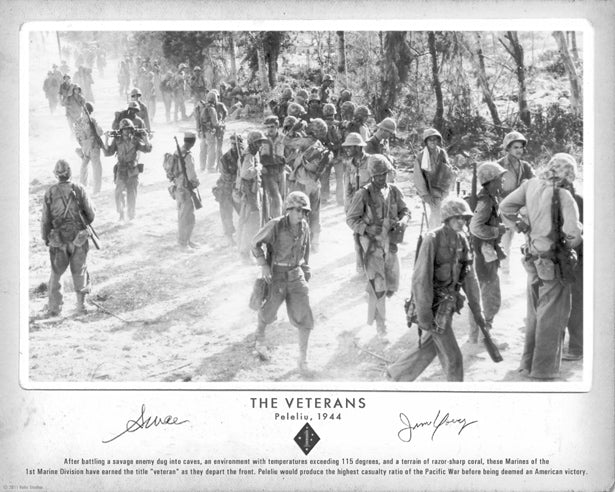 "The Veterans" photo autographed by heroes of "The Pacific"
DESCRIPTION
SIGNERS

PHOTO CARE
Peleliu 1944: After battling a savage enemy dug into caves, an environment with temperatures exceeding 115 degrees, and a terrain of razor-sharp coral, these Marines of the 1st Marine Division have earned the title "veteran" as they depart the front. Peleliu would produce the highest casualty ratio of the Pacific War before being deemed an American victory.

This is autographed in black marker by Peleliu veterans Sterling Mace, who served with Eugene Sledge in K-Company and Jim Young, who served with Sid Phillips and Robert Leckie in H-Company. The photo features an exclusively designed vintage motif.

Shipping added in checkout // photo size: 8" x 10" // ships flat in a heavy-duty envelope


Pfc. Sterling Mace
A rifleman with K-Company, 3rd Battalion, 5th Marine Regiment, 1st Marine Division (K-3-5), the Marine company featured in With the Old Breed and in HBO's The Pacific, Mace fought at Peleliu and Okinawa. Mace is the author of Battleground Pacific and is featured in Adam Makos' Voices of the Pacific.

Sgt. James Young
A three Campaign veteran, Young served as in the Mortar Platoon with H-Company, 2nd Battalion, 1st Marine Regiment, 1st Marine Division (H-2-1). Young fought alongside fellow H-Company Marines Robert Leckie and Sid Phillips on Guadalcanal, Cape Gloucester, and Peleliu. His stories of combat and survival are featured in Adam Makos' book Voices of the Pacific.


We recommend that all autographed items be displayed or stored using archival quality, acid free materials away from any moisture or strong light exposure. When framing art/photographs/posters, we recommend locating a framer who is familiar with archival framing, has a storefront so you can see examples of their work, is not within a big box store, and has full insurance in the event an accident occurs while framing your item.

UV blocking glass/acrylic, spacers, and acid free framing materials must be used to protect the image and signatures. Fading can occur even if an item is not displayed in direct sunlight (even a light bulb omits UV rays) so UV blocking glass/acrylic is necessary. Acid free spacers or mat board must also be utilized to prevent the signatures from direct contact with the top layer of glass/acrylic. If a signature is pressed against the clear material it will lift off the photo/poster/print and deteriorate.

In order to retain full value of your item, your art or collectible should be able to be removed from its frame or storage container and still be in the same original condition as it was when purchased from Valor Studios.

If you decide to store one of our art prints/collectibles without getting it framed, then we recommend flat storage in either an acid free art sleeve or between pieces of acid free foam core. The item should be stored in a dark and dry location, several inches off the floor. We do not recommend storing prints/posters/photos in tubes for any extended length of time.