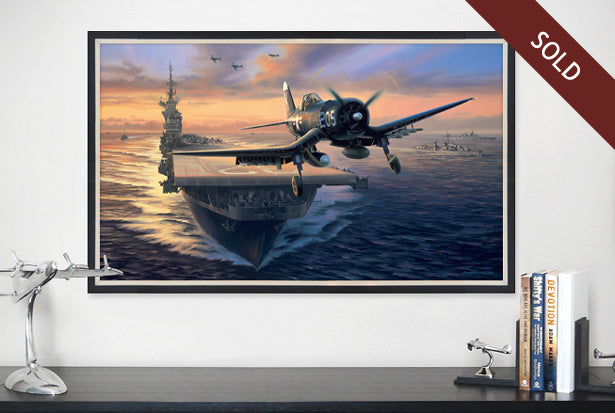 "Off to the Chosin" Original Painting by Nicolas Trudgian
Now is your chance to own a one-of-a-kind masterpiece by famed artist Nicolas Trudgian, depicting legendary pilot Tom Hudner as he takes off on a critical mission to help the US Marines at the Chosin Reservoir.

First revealed in the acclaimed new book, Devotion, by bestselling author Adam Makos, "Off to the Chosin" has also appeared on the cover of the National Naval Aviation Museum's official journal.

The detail is magnificent from the thousands of brushstrokes that masterfully recreate the waves to the red diamond "Fox Flag" that flaps in the breeze above the deck.

This painting is signed on the back by the heroes of Devotion, Corsair pilots Tom Hudner, Marty Goode, Bill Wilkinson and Herb Sargent!

This original oil painting on canvas is sized at 36" x 22", and is sold unframed.

Having previously sold three Trudgian paintings, this is the only one we have available for sale so don't wait to make your offer on this ultimate collectible!

Nicolas Trudgian was born and raised in Plymouth, England. His father and uncle both served in the RAF during WWII and so his childhood was filled with stories about the air war in Britain & beyond.

Nick began showing a real talent for art at an early age and his surroundings gave him the perfect inspiration to fill sketchbooks with drawings of aircraft, ships and also trains. Five years at art college further equipped him with the skills necessary to paint technical subjects with authority and soon commissions came flooding in, mostly illustrations for companies spanning Rolls Royce to Ford.

It was this aspect that no doubt attracted his first aviation art publisher who asked Nick to paint aircraft pictures. It was an instant success and so Nick gave up the commercial illustration work to paint aviation scenes. In the past 20 years Nick has had published more than 150 full size color prints and countless pencil and smaller prints.

His work is collected worldwide and especially in the United States where he has attended numerous art shows and gained many friends. His work has been exhibited, amonst other places, in the Smithsonian, the Pentagon and Britain's Imperial War Museum.