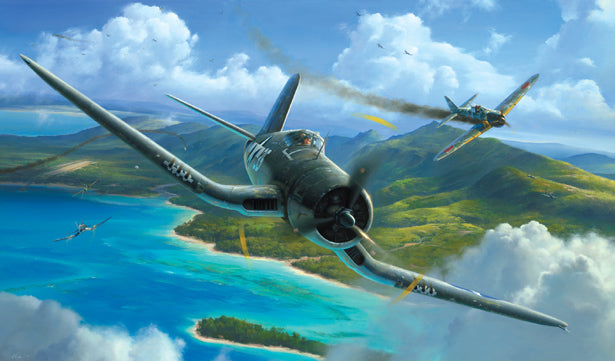 Come Up and Fight by Gareth Hector
DESCRIPTION
EDITIONS
SIGNERS
Bougainville Island, October 18, 1943: The fight was days in the making. When Pappy Boyington flew over the airfield at Kahili earlier that week, a Japanese-accented voice radioed: "Major Boyington, what is your position?"

"Right over your damn airport," he replied, "Come up and fight!" But no enemy answered.

This day was different. With his Black Sheep in tow, Pappy issued the challenge again: "Come on up and fight, you yellow bastards!" And this time, the Japanese sent their answer, launching some fifteen aircraft. The ensuing air battle would end with the Japanese fleeing, the Black Sheep victorious, and a new page written in the legend of Pappy Boyington.

Want to know "who" signed which print edition? Click the EDITIONS tab above.

Shipping added in checkout // print size: 32" x 22.5" // giclee size: 40" x 23.5" // ships rolled in a tube 

ARTIST PROOF - Less than 7 Remain!
75 limited-edition prints, signed by Gareth Hector & two Marine Corsair pilots: Jim Hill, "Black Sheep," scored his first victory during the mission depicted and Bill Lucas, pilot in VMF-216 & VMF-224 (Guam, Kwajalein & Okinawa). Includes COA, two photos, and replica pilot wings.

CANVAS GICLEE EDITION - Sold Out
25 canvases

MAIN EDITION - Sold Out
100 limited-edition prints

PUBLISHER PROOFS - Sold Out 
43 limited-edition prints 

OTHER EDITIONS
A Signer Proof edition of 50 prints exists, not-for-sale.

"Come Up and Fight" is hand-signed by a collection of WWII heroes! Signers vary print by print. Please click "editions" to see which veterans signed which prints.

HENRY "BOO" BOURGEOIS
21-year USMC veteran. Started as a Wildcat pilot in VMF-122 with "Pappy" Boyington, flying from Guadalcanal. Original member of Boyington's "Black Sheep." One combat tour as a "Black Sheep," shot down a Sally & Zero during WWII. Flew combat in Korea.

ROBERT BRUNSON
Brunson served with the first carrier-based Night Fighter Squadron, VF(N)-101, aboard the USS Enterprise, where he flew F4U-2 Corsairs equipped with radar. Brunson flew throughout the South Pacific, including the Marshall Islands, Marianas Islands, and the Battle of the Philippine Sea.

TOM "LONG TOM" EMRICH
An original member of Boyington's "Black Sheep," Tom flew both combat tours with the unit. He shot down two Japanese Zeroes on October 17th, the day before "Come Up and Fight." After the war he would become a pilot with TWA, flying for 35 years and ending his career as a 747 captain.

ED "HARPO" HARPER
28-year Marine Corps veteran, original member of Boyington's "Black Sheep." Flew combat missions in three wars: 97 in WWII, 21 in Korea & 14 in Vietnam. Awarded three DFCs, 7 Air Medals, a Bronze Star and two Purple Hearts. Helped develop the Harrier jet program at McDonnell Douglas.

JIM "J.J." HILL
An original member of Boyington's "Black Sheep," Hill flew two combat tours under Pappy's leadership, scoring a victory on the Oct. 18th mission (depicted). Hill flew a total of 100 combat mission during WWII and received 3 DFCs and 12 Air Medals.

HARRY "SKINNY" JOHNSON
Joined the "Black Sheep" as a replacement pilot during their second tour, in Nov. 1943. Shot down a Zero near Rabaul on January 6, 1944, the last victory to be scored before the squadron was disbanded. Flew 84 missions in total as a Corsair pilot in WWII and another 69 missions in the Korean War.

WILLIAM LUCAS
F4U Corsair pilot in squadrons VMF-216, "The Bulldogs" and VMF-224 "The Bengals." Flew combat missions from Guam, Kwajalein and Okinawa. Later fought in the Korean War, flying Corsairs and observation aircraft, earning a Silver Star and two DFCs. Would command Marine Helicopter Squadron 364 in Vietnam.

BRUCE MATHESON
34-year Marine Corps veteran, retired a Brig. Gen. Youngest member of Boyington's "Black Sheep." Shot down three enemy aircraft, 1.5 probables. Flew combat missions in WWII, Korea and 400 missions as a Huey pilot in Vietnam. Awarded three DFCs, 30+ Air Medals, and a Purple Heart.