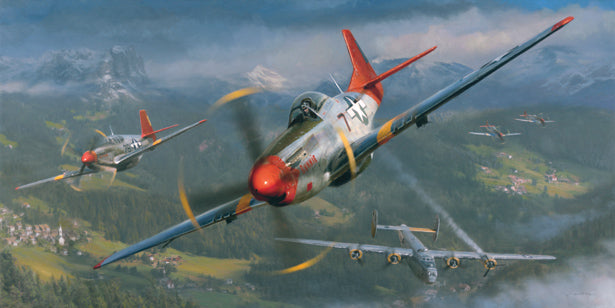 Return of the Redtails by Matt Hall
DESCRIPTION
EDITIONS
SIGNERS
VIDEO
September 12, 1944 . . . low over Northern Italy, the pilots of the 332nd Fighter Group shepherd home a wounded B-24 of the 455th Bomb Group after a bombing raid on the Me-262 test airfield at Lechfeld, Germany. The men of the 332nd, the first African American combat pilots, would be known as the "Tuskegee Airmen." But, in the sky, they were simply called the "Red Tails." On this day, the Red Tails will return to their base at Ramitelli. To them, this escort was just another day's work. But, to the bomber crew below, they were the difference between life and death.

Want to know "who" signed which print edition? Click the EDITIONS tab above.

Shipping added in checkout // print size: 31" x 19" // ships rolled in a tube


PUBLISHER PROOF - Resale, in mint condition!
Sold out for years, this ultra-rare Publisher Proof print is from an edition of 180 limited-edition prints, signed by artist Matt Hall and 12 WWII airmen. "Redtails" P-51 pilots: Charles McGee, Roscoe Brown, Leo Gray, George Hardy, Marion Rodgers and Calvin Spann. The ground crew that kept them flying: Dabney Montgomery and Wilfred DeFour. And the B-24 aircrews they protected: John Ferris (pilot), John Whitley (pilot), Vernon Bingham (navigator), and Howard Casey (gunner). Includes patches representing the squadrons shown, pilot wings, photos of the 332nd FG and a COA with "History Behind the Art."

VICTORY EDITION
300 limited-edition prints, signed by Matt Hall and 4 veterans: "Red Tails" pilots Charles McGee (his P-51 "Kitten" is depicted) and Leo Gray, 15th Air Force B-24 pilot John Whitley plus another veteran! Includes patches representing the squadrons shown, two 332nd FG photos, pilot wings and COA with "History Behind the Art."

GALLERY EDITION - Sold Out
100 limited-edition prints

MAIN EDITION - Sold Out
200 limited-edition prints

ARTIST PROOF - Sold Out
200 limited-edition prints

OTHER EDITIONS
A Signer Proof edition of 100 prints exists, not-for-sale. A canvas giclee edition may be made available. 


"Return of the Redtails" is hand-signed by a collection of WWII heroes! Signers vary print by print. Please click "editions" to see which veterans signed which prints.

LT. VERNON BINGHAM
Lt. Vernon Bingham deployed to North Africa in 1943 as a B-24 navigator with the 415th BS, 98th BG, the "Pyramiders." Bingham participated in Operation Tidal Wave, the low-level bombing raid on the Ploesti refineries. In November 1943, the 98th BG was moved to Italy where Bingham flew the remainder of 50 combat missions.

On one such mission, severe weather forced the aircraft in Bingham's flight to turn back, while he confidently navigated his plane through the poor conditions to destroy their objective. While over the target, Bingham's B-24 was hit by enemy fire, disabling two engines. Unable to gain altitude and only make right turns, Bingham convinced his pilot that he could navigate them home. Flying a series of clockwise-circles, Bingham's directions brought his B-24 to a friendly airfield. For his actions, Bingham received the Distinguished Flying Cross.

CAPT. ROSCOE BROWN
Roscoe Brown, Jr. joined the Air Corps shortly after graduation from Springfield College. Upon training at the Tuskegee facilities, he joined the 100th Fighter Squadron of the 332nd Fighter Group in Italy, which he would later command.
Brown, flying his P-51D "Bunnie," is credited as being one of the first 332nd FG pilots to shoot down a Luftwaffe Me 262 jet fighter aircraft during an air battle over Berlin. For his bravery he earned the Distinguished Flying Cross and Air Medal with eight Oak Leaf Clusters. After his military service, he received his masters and doctorate degrees at NYU and has been director or chair of over 25 community organizations.

SSGT. HOWARD CASEY
In August 1944, Howard Casey joined the 15th AF in Italy as a B-24 ball turret gunner with the 761st BS, 460th BG. He flew 13 combat missions until his combat tour was cut short during a mission to Munich. There, Casey's B-24 received a direct hit from AA fire. The shell pierced the fuel tank and exploded above his B-24. Quickly loosing fuel, they turned back for Italy, passing over Switzerland where they were escorted to land by a Swiss Bf-109. The crew was interned for 6 months until being traded for German POWs in a repatriation deal. Casey returned to the states and was discharged in November 1945. He received the Air Medal, POW medal, and ETO medal with four battle stars. Returning to his home state of Michigan, Howard resumed a 40 year career working at General Motors.

SSGT. WILFRED DEFOUR
Wilfred DeFour joined the Air Corps in 1942. After basic training at Tuskegee Army Airfield, Wilfred was assigned to the 366th Air Service Squadron, 96th Air Service Group. Joining up with his fellow Tuskegee Airmen in Italy, Wilfred worked as an aircraft technician, providing field service to the aircraft of the 332nd FG at Ramitelli Airfield. Discharge in December 1945, Wilfred began a career of more than 30 years working at the NYC Post Office, retiring as a Superintendent. He then began a real estate company serving the Harlem community that he operates to this day.

MAJ. JOHN FERRIS
John Ferris deployed to Italy in January 1945 as a B-24 pilot with the 415th BS, 98th BG, 15th AF. Ferris completed 15 missions targeting oil refineries, ball bearing factories, and German fighter airfields. In April 1945, Ferris and his crew were transferred to Northern Italy where they completed their last 2 missions of the war flying with the 780th BS, 465th BG. Ferris has fond memories of the Tuskegee Airmen of the 332nd and recalls having the red tailed P-51s flying his wing on many of his 17 missions. After the war, Ferris remained in the Air Force Reserve until being called back to active duty to fly C-54s in Germany as part of the Berlin Airlift. He retired from the Air Force in 1967, at the rank of Major.

LT. COL. LEO GRAY
Leo Gray graduated from the Tuskegee Army Airfield and was soon stationed in Italy as a fighter pilot in the 100th Fighter Squdron, 332nd Fighter Group. Gray flew 15 combat missions in P-51s. One of Gray's most memorable combat moments was encountering two Me 262 jets only to have them fly off upon seeing he and his wingman drop their wing tanks in anticipation of battle.

He remained in the USAF Reserves until 1984 retiring as a Lt. Colonel. During his 41 years of military service, Gray earned the Air Medal with Oak Leaf cluster, the Presidential Unit Citation, and the Mediterranean Theatre of Operation ribbon with three battle stars.

LT. COL. GEORGE HARDY
George Hardy graduated from Tuskegee Army Air Field in September 1944 and was assigned to the 99th Fighter Squadron, 332nd Fighter Group, where and flew twenty-one combat missions over Germany. During the Korean War he flew 45 combat missions in B-29s and later in Vietnam flew 70 combat missions as a pilot of an AC-119K Gunship.

Hardy retired in November 1971 with the rank of Lt. Colonel. His decorations include: the Distinguished Flying Cross, the Air Medal with eleven Oak Leaf Clusters, and the Commendation Medal with one Oak Leaf Cluster.

BRIG. GEN. CHARLES MCGEE
Charles McGee graduated as part of Tuskegee Army Air Field Class 43-F in 1943. Stationed in Italy with the 302nd Fighter Squadron, 332nd Fighter Group, he flew combat in the P-39, P-47, and P-51. McGee flew a total of 136 combat missions in WWII and shot down a FW-190.

McGee remained on active duty for 30 years, flying combat in both the Korean and Vietnam wars. He has flown more than 6,100 total hours and holds the record for the highest three-war total of fighter combat missions of any pilot in the U.S. Air Force history. In his remarkable military career, he earned the Legion of Merit with Cluster, three Distinguished Flying Crosses, the Bronze Star and the Air Medal with 25 Oak Leaf clusters!

SGT. DABNEY MONTGOMERY
Dabney Montgomery entered into the Army Air Corps during World War II. He served as a ground crewman with the Tuskegee Airmen in Southern Italy from 1943 to 1945 and was awarded the WWII Victory Medal, a Service Award, the Honorable Service Medal, and the European/African/Middle Eastern Service Medal with two Bronze Stars. On March 29, 2007, Montgomery received the Congressional Gold Medal of Honor, presented by President George W. Bush to all original Tuskegee Airmen. Today, Montgomery is active in the Harlem community where he is a member of various community boards.

LT. COL. MARION RODGERS
Marion Rodgers joined the Army in 1942, serving with an Army Coast Artillery/Anti-Aircraft unit prior to being reassigned to Tuskegee Institute. Marion deployed to Italy in July 1944, joining the 99th FS at Ramitelli Airfield, where he flew 68 combat missions by war's end. Marion went on to become the Commander of the 99th FS back in the states. After retiring from military service in 1965, Marion worked as Program Manager on the Apollo space program. He then returned to the Air Force for a second time, working as Chief of the communications branch at NORAD, before retiring again in 1983. In retirement, Marion has hosted the KKTV "Involvement" series and enjoys his hobby as an amateur radio operator.

LT. CALVIN SPANN
Calvin Spann received his wings at Tuskegee, graduating in Class 44G. Spann was sent to Italy as a replacement combat pilot and became a member of the 100th Fighter Squadron, 332nd Fighter Group. Spann flew 26 combat missions before the end of the war in Europe. Spann remained in the Air Force Reserves until 1961 when he was honorably discharged. In May 2006 Spann received the degree, Doctor of Public Service from Tuskegee University.

LT. COL. JOHN WHITLEY
John Whitley joined the National Guard in 1938 and was called to active duty with the 30th Infantry Division in 1940. He requested flying duty, and was transferred to flight training in 1942. Upon graduation, John accumulated flight time as an instructor pilot for 10 months before volunteering to fly B-24s. In August 1944, John received a brand new B-24J and made the flight to Foggia Airfield, Italy, where he joined up with the 758th BS, 459th BG, 15th AF. Because of his flight experience, John was selected to fly as group flight leader on most of his 35 combat missions. After the war, John remained in the military, flying C-54s during the Berlin Airlift and working Air Traffic Control assignments. John retired in 1962 at the rank of Lt. Col.


Enjoy the news segment below of "Return of the Redtails" signer Gen. Charles McGee being honored at the 2020 State of the Union address.