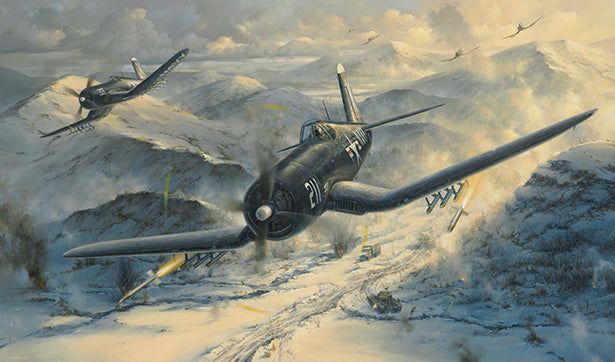 Wingmen to the End by Gareth Hector
DESCRIPTION
EDITIONS
SIGNERS
TRAILER
December 3, 1950: Ens. Jesse Brown and Lt. Tom Hudner respond to a call for close air support from the Marines below. In temperatures as low as -20 degrees, 30,000 Marines and Army soldiers fight against an encirclement of 120,000 Chinese troops. The pilots have flown through snow squalls and dodged mountain peaks to make their attacks, and ultimately, they'll buy time for friendly forces to break out from the trap. The next day, Brown would be shot down and Hudner would crash-land to try to save his friend. Although Hudner's attempt would fall short and Brown would give his life, their heroism as wingmen would echo for eternity.

Want to know "who" signed which print edition? Click the EDITIONS tab above.

Shipping added in checkout // print size: 32" x 22.5" // ships rolled in a tube


VICTORY EDITION
First released in 2015 to promote the book Devotion, we have a small number of Victory Editions available from the limited-edition of 300. Each is signed by artist Gareth Hector, Medal of Honor recipient Tom Hudner (depicted), and "Chosin Few" Marine John "Red" Parkinson (Silver Star). Includes four historical photos for framing, Navy wings, and a Certificate of Authenticity.


"Wingmen to the End" is hand-signed by a collection of Korean War heroes! Signers vary print by print. Please click "editions" to see which veterans signed which prints.

CAPTAIN BOB ANDERSON
A flight instructor during World War II, Bob Anderson began flying combat missions in Korea as an artillery observer for the 1st Marine Division in 1951 where he earned the Distinguished Flying Cross for his heroics (read the citation below). By fall 1952, he was back in action, this time as a Corsair pilot in VMA-212, the "Devil Cats." He would go on to fly 100 combat missions over Korea, often supporting the troops on the ground, and often bringing home his Corsair peppered with battle damage. After Korea, Bob would become a helicopter pilot flying in HMM-362 during the Vietnam War.

…for heroism while participating in aerial flight as a Regimental Artillery Air Observer of Headquarters Battery, Eleventh Marines, First Marine Division (Rein.), FMF,, in action against enemy aggressor forces in Korea on 14 June 1951. First Lieutenant Anderson, flying in a slow unarmed aircraft, observed approximately two hundred enemy troops entrenched on a hillside towards which friendly ground forces were advancing. Recognizing the threat posed by the large enemy force, he quickly called in artillery fire on the positions, flying over it at dangerously low altitudes in order to adjust the fire. Despite the fact that the enemy directed intense automatic weapons and small arms fire on his vulnerable aircraft, he courageously refused to leave the area until the position had been neutralized by artillery fire, and heavy casualties taken by the enemy. His bravery and alertness aided materially in the subsequent seizure of the strategic ground. First Lieutenant Anderson's efficient actions and fearless devotion to duty were in keeping with the highest traditions of the United States Naval Service.

CAPTAIN TOM HUDNER (Medal of Honor)
A graduate of the Naval Academy, Tom flew combat missions with VF-32 in the fall of 1950. Despite being previously warned to avoid any "Hollywood rescue heroics," Tom crash-landed his F4U to try to save his wingman, Jesse Brown. For his actions, he was awarded the Medal of Honor in 1951. In 2013, Tom returned to North Korea on a mission to find Jesse's remains. While he was unable to visit the Chosin Reservoir area, his visit impressed Supreme Leader Kim Jong Un who ordered his military to "find Jesse Brown." Tom's story is told in the bestselling book "Devotion," by Valor Studios co-founder Adam Makos, and in the film of the same name. 

LT. COLONEL WILLIAM LUCAS (Silver Star) 
Bill Lucas served as a F4U Corsair pilot in squadrons VMF-216, "The Bulldogs" and VMF-224 "The Bengals" during World War II where he flew combat missions from Guam, Kwajalein and Okinawa. He remained in the service and fly F4U Corsairs during the Korean War as a pilot in VMF-212 before joining VMO-6 where he flew observation aircraft during the Chosin Reservoir campaign. It was Bill's fellow VMO-6 pilot, Charlie Ward, who rescued Tom Hudner on December 4th. Following the Chosin, Bill continued to fly in VMO-6 earning the Silver Star for actions on March 2, 1951 (read his citation below). Bill would later command Marine Helicopter Squadron 364 in Vietnam.

Spotting a well-concealed hostile force strategically located on a ridge and commanding an area occupied by friendly forces, Captain Lucas immediately radioed the location of the positions and informed the advancing units that he would endeavor to neutralize the hostile emplacements by air strikes. After contacting and briefing close support aircraft, he executed low altitude dives to pinpoint and mark the locations by dropping smoke grenades and, despite heavy enemy small arms and automatic weapons fire, remained over the target area to direct the planes in their rocket and strafing runs to rout the enemy from the hill. By his superb airmanship, cool courage under fire and heroic actions throughout, Captain Lucas was directly instrumental in the continued forward advance of friendly troops, and his zealous devotion to duty was in keeping with the highest traditions of the United States Naval Service.

SGT. JOHN PARKINSON (Silver Star) 
John "Red" Parkinson joined the Marines at age 19 to "see the world." He was one of the Fleet Marines deployed to the Mediterranean when the Korean War broke out. Red's unit became part of the legendary 1st Marine Division and fought from the liberation of Seoul through the Chosin Reservoir battle where Red witnessed the pilots of VF-32 in action. For his heroics in the Korean War, Red would receive the Silver Star, Bronze Star and Purple Heart. He is featured heavily in the book, "Devotion," by Valor Studios co-founder Adam Makos. 


Enjoy the trailer for the film Devotion, based on the bestselling book by Valor Studios co-founder Adam Makos!