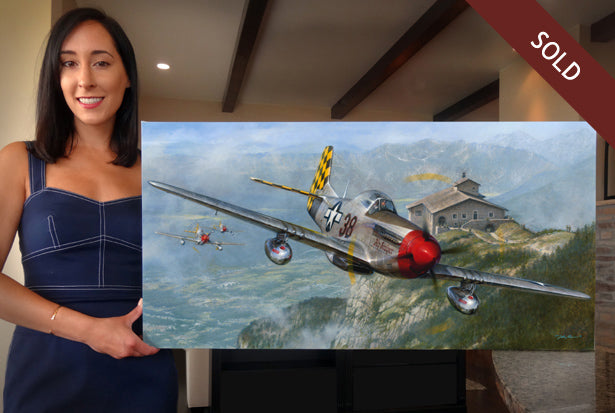 "Alpine Eagles" Original Painting by John D. Shaw
Now is your chance to own a one-of-a-kind masterpiece by John D. Shaw. "Alpine Eagles" shows P-51 Mustangs of the 325th Fighter Group as they buzz Hitler's Eagle's Nest soon after VE-Day. 

This original oil painting on canvas is 36" x 18", and sold unframed. 

Having previously sold our other Shaw paintings, this is the only one we have for sale so don't wait to add this ultimate collectible to your wall!

John D. Shaw has pursued his art and graphics career since 1985 and is a veteran of both the fine art and commercial art fields. As an illustrator, Shaw created artwork for clients such as Lucas Films Ltd., Kellogg's, and Major League Baseball. Shaw's work took a new emphasis in 1993, when he began creating paintings with a historical theme.

Shaw's artwork hangs in the collection of President Bush '41, President Bush '43, the Cavanaugh Flight Museum, and private collections worldwide. His art has adorned the covers of magazines like Private Pilot's Aviation Art Gallery, World War II, World War II History, Aviation History, and our own publication, Valor.