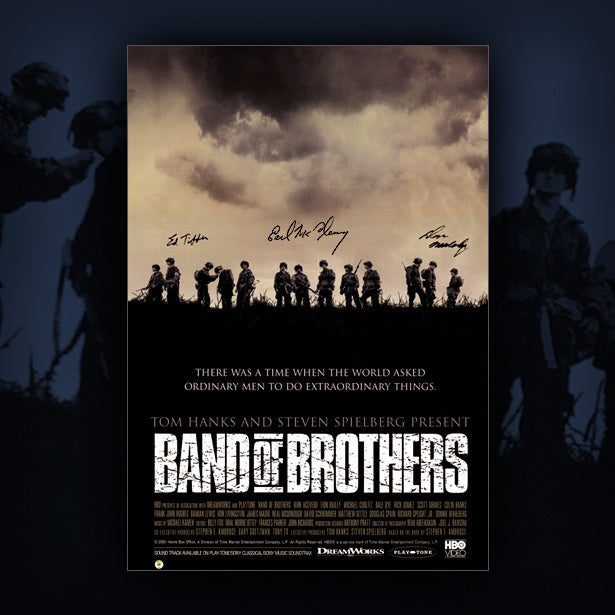 Autographed "Band of Brothers" Movie Poster #4
DESCRIPTION
SIGNERS

POSTER CARE
This official Band of Brothers movie poster, the fourth in our series of six autographed posters, is hand signed by Don Malarkey, Earl McClung, and Ed Tipper!

All posters are sold unframed & are signed in black marker. Comes with a Certificate of Authenticity.

Shipping added in checkout // poster size: 11" x 17" // ships rolled in a tube


DONALD MALARKEY
Donald Malarkey was born in Astoria, Oregon in 1921. He was in his first semester at the University of Oregon in the fall of 1941 when the Japanese attacked Pearl Harbor. After the attack, Malarkey tried enlisting in the Marines, but he was turned down because of dental problems.

In July 1942, he volunteered for the paratroops of the United States Army, becoming a member of Easy Company, 2nd Battalion, 506th Parachute Infantry Regiment of the 101st Airborne. He received the Bronze Star Medal for his involvement in the Brécourt Manor assault on D-Day in Normandy. During his time with Easy Company he was promoted to the rank of Tech Sergeant. Malarkey was involved in combat in Normandy, Operation Market Garden in Holland, Bastogne, and Germany.

In the 2001 miniseries, "Band of Brothers," Malarkey was portrayed by actor Scott Grimes, now a star of the TV show E.R. Don Malarkey, along with his longtime friend Buck Compton, are today recognized as two of the most memorable characters of the Band of Brothers mini-series.

EARL MCCLUNG
Earl was born on April 27, 1923 at the Colville Indian Reservation in Inchelium, Washington. While in his senior year of high school, on Feb 15, 1943, McClung was drafted into the U.S. Army. He underwent infantry basic training at Camp Walters, Texas, and volunteered for Airborne training at Fort Benning, Georgia.

McClung joined Company E, 506th Parachute Infantry Regiment, at Fort Bragg, North Carolina before shipping out to England. He participated in all of 101st Airborne Division's major campaigns in the European Theatre of Operations. He received two Bronze Star awards for valor and the Purple Heart for being wounded in the line of duty.

McClung left the service in 1947 and worked for the Postal Service, for 17 years. He then worked for 13-years as a game warden on the Collvile Indian Reservation, a post from which he retired in 1988.

ED TIPPER
Ed was born August 3, l921, in Detroit. When Pearl Harbor was bombed and war declared, Ed tried to enlist in the Marines, but was rejected because his teeth did not bite together perfectly. Instead, Ed enlisted in the Army Paratroops and in August l942 became a founding member of Easy Company as it was formed in Toccoa, Georgia. Ed jumped with Easy Company into Normandy on D-Day.

Ed fought a short, but intensive war before he was badly wounded by mortar fire in the battle for Carentan, France. Ed spent a year in Army hospitals and recovered almost completely except for his destroyed right eye.

After the war, Ed graduated from University of Michigan in l949 then spent more than 30 years teaching high school in Iowa and Colorado. In his spare time, Ed bought, renovated, and operated apartment buildings, before retiring in l979.


We recommend that all autographed items be displayed or stored using archival quality, acid free materials away from any moisture or strong light exposure. When framing art/photographs/posters, we recommend locating a framer who is familiar with archival framing, has a storefront so you can see examples of their work, is not within a big box store, and has full insurance in the event an accident occurs while framing your item.

UV blocking glass/acrylic, spacers, and acid free framing materials must be used to protect the image and signatures. Fading can occur even if an item is not displayed in direct sunlight (even a light bulb omits UV rays) so UV blocking glass/acrylic is necessary. Acid free spacers or mat board must also be utilized to prevent the signatures from direct contact with the top layer of glass/acrylic. If a signature is pressed against the clear material it will lift off the photo/poster/print and deteriorate.

In order to retain full value of your item, your art or collectible should be able to be removed from its frame or storage container and still be in the same original condition as it was when purchased from Valor Studios.

If you decide to store one of our art prints/collectibles without getting it framed, then we recommend flat storage in either an acid free art sleeve or between pieces of acid free foam core. The item should be stored in a dark and dry location, several inches off the floor. We do not recommend storing prints/posters/photos in tubes for any extended length of time.