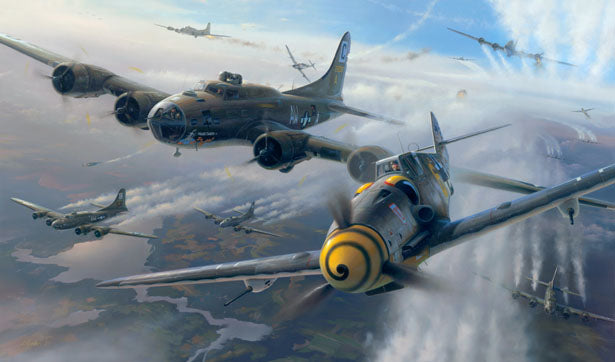 Black Thursday by Gareth Hector
DESCRIPTION
EDITIONS
SIGNERS
October 14, 1943: Deep into Germany and with their fighter escort gone, the bomber boys of the 8th Air Force are in the fight of their lives. More than three hundred "unrelenting" Luftwaffe fighters are trying to make them do the unthinkable: to turn back.

The ball bearing factories at Schweinfurt lay ahead, it's a crucial target, and that leaves the 8th with one option: to fight their way through the maelstrom. Jousts ensue at 23,000 feet as JG 3 ace Alfred Surau attacks in his Bf-109G. Sixty bombers will fall, including this B-17, "Wabbit-Twacks III," of the 96th Bomb Group.

Today, "Black Thursday," will be the costliest mission in 8th Air Force history, but in a mere six days the "Mighty Eighth" will be back in action, and within five months American bombs will rain on Berlin. 

Want to know "who" signed which print edition? Click the EDITIONS tab above.

Shipping added in checkout // print size: 32" x 22.5" // giclee size: 40" x 23.5" // ships rolled in a tube

PUBLISHER PROOF - Resale, in mint condition!
Sold out in 2021, this highly desirable Publisher Proof print is from an edition of 110 limited-edition prints and includes the autographs of 12 signatures from pilots & air crew from both sides of the WWII air war. On a signature card, perfect to frame with the print, is George Roberts, radioman on "Rose of York," who survived "Black Thursday". Signing on the print, from the 8th AF: Roland Martin, pilot of "The Iron Maiden" (downed on "Black Thursday"), Sam Satariano, pilot of "Lakanukie" (flew 1st Schweinfurt raid), Hugh McGinty, gunner on "Censored" (flew Schweinfurt raid in '44), Fred Wiese, pilot of "The Little One," Bill Roche, gunner on "Lucky Lady III," Mitch Mischler, gunner on "Pride of the Yanks," and Dick Gibbs (4 victories), pilot of the P-51 "Cherry". Signing from the Luftwaffe are: Bf 109 pilots Jorg Czypionka (JG 300), Karl Evers (JG 103), Gernot Heinrichsdorff and Fw 190 pilot Hal Bauer. Includes patches of the aircraft unit depicted, a photo of Roland's crew and George's B-17, and a Certificate of Authenticity signed by artist Gareth Hector who was unable to sign the prints due to the ongoing Covid pandemic.

VICTORY EDITION
290 limited-edition prints, signed by three aviators who fought over Europe during WWII: Roland Martin, pilot of the B-17 "The Iron Maiden," shot down on "Black Thursday," Fred Wiese, pilot of the B-17 "The Little One," completed 35 missions, and Bill Roche, gunner on the B-17 "Lady Luck III," shot down twice. Includes an 8th AF patch, photos relating to both sides of the air war and a Certificate of Authenticity signed by artist Gareth Hector who was unable to sign the prints due to the ongoing Covid pandemic.

GICLEE EDITION
43 limited-edition canvases, each a museum quality replica of the original painting, sized at a jaw-dropping 40 inches wide. We have for sale just 20 of these giclees that have been hand-signed on the front by Roland Martin, pilot of the B-17 "The Iron Maiden," shot down on "Black Thursday," and believed to be the last-living pilot who flew the Second Schweinfurt mission! Includes a Certificate of Authenticity signed by artist Gareth Hector who was unable to sign the prints due to the ongoing Covid pandemic.

OTHER EDITIONS
The Eagle Proof edition is sold out. A Signer Proof edition exists, not-for-sale.


"Black Thursday" is hand-signed by a collection of WWII aviators from both sides, who signed the prints as former enemies turned friends. Signers vary print by print. Please click "editions" to see which veterans signed which prints.

COMMANDER HARALD BAUER
Born in the US Embassy in Berlin to an American mother and German father, Harald was raised in Germany and became a 17-year-old Luftwaffe pilot, first flying Fw 190s then flying the new He 162 "Salamander" jet. On March 24, 1945, Harald's jet was shot down by P-51 Mustangs and he was captured by American tankers, who helped him recover from his injuries. After the war, Harald came to America and joined the Navy, becoming a reconnaissance pilot during the Korean War. Leaving the Navy as a Commander, he would become a journalist working with the Associated Press and UPI.

LIEUTENANT JORG CZYPIONKA
Jorg joined the Luftwaffe in 1939 to pursue his dream of flying. He became an instructor and later a fighter pilot in JG 300/NJG 11, flying the Bf 109, and then the Me 262, at night against RAF bombers. As the war neared its end, Jorg flew off the autobahns near the Danish border until his squadron turned their aircraft over to the British instead of destroying them. In the years after the war, he first worked as a typewriter repairman and eventually attended university, became a textile engineer, and started a new life in America. In 2011, Jorg was a technical adviser on the book "A Higher Call."

MASTER SERGEANT KARL EVERS
Born in Kiel, Germany, Karl became a skilled machinist making U-Boat parts after his middle school was destroyed by allied bombing. Having flown gliders since the age of nine, Karl then joined the Luftwaffe to become a pilot and was trained with JG 103 in both the Bf 109 and Fw 190. When the Soviet army neared his training base at Stolp-Reitz in 1945, he and his fellow aviators were transferred into the infantry and Karl became a mortar man. In 1951, Karl immigrated to America and joined the US Army, serving during the Korean War with the 94th Engineer Battalion and retiring as a Master Sergeant.

LIEUTENANT RICHARD GIBBS
As the son of a Coast Guard officer who was escorting convoys across the Atlantic, 18-year-old Dick Gibbs was eager to do his part so as soon as he turned old enough he signed up for the Air Corps. At age 19, Dick found himself in the 343rd SQD, 55th FG in Wormingford, England, flying the hottest fighter around - the P-51D. As a Mustang pilot with the callsign "Tudor 43," Dick would fly 40+ missions, with all but two being spent escorting 8th AF bombers. Dick's most memorable day took place on his third mission, Feb. 3, 1945, when he came across a ultra-rare "Mistel" composite aircraft - an unmanned JU-88 bomber loaded with explosives with a piloted Fw 190 fighter hooked on top - heading for the port of Antwerp. Dick targeted the Ju 88, setting its engine on fire, before the Fw 190 released it and tried to evade him. Dick pursued the Fw 190 and shot that down as well, earning two victories during his first ever encounter with enemy aircraft. "I thought that was a pretty hot deal!" he proudly recalls. Dick would go on to down two more Fw 190s to bring his final tally to four aircraft destroyed by the war's end.

UNTERFELDWEBEL GERNOT HEINRICHSDORFF
The son of Europe's first female landscape architect, Gernot grew up in a household that hid three Jewish children during the war. In 1943, Gernot was drafted and enrolled in the Air Force academy near Dresden, the same school that Franz Stigler had instructed at. At age 18, Gernot took flight training near Vienna, where he piloted the Bf 109, before becoming an infantryman due to lack of fuel for flying. He then fought the Soviets near Vienna until wounded. In 1958, Gernot came to America, with the help of the Jewish children his mother had saved, and became a successful landscape designer.

CAPTAIN ROLAND MARTIN
Joining the Air Corps in 1942, Roland became a B-17 pilot at the young age of 19 and when he was assigned to the 525th SQD., 379th BG at Kimbolton, he was the youngest B-17 pilot in the entire 8th Air Force! He and his crew completed nine missions aboard their B-17F, named "The Iron Maiden," which featured nose art of a nude woman on the side, a work-in-progress by a local Kimbolton artist that the crew had hired. The nose-art would never be finished as Roland's tenth mission was "Black Thursday." Hit by flak over Germany, "The Iron Maiden" lost both engines on the starboard side and fell out of formation. Streaming gasoline and being attacked by JU 88s, Roland decided to force land "The Iron Maiden," the best chance to save his crew. He safely put the plane down in a German farm field where he attempted to destroy the aircraft before escaping capture. He and his flight engineer spent two weeks on the run, heading for Switzerland, until they were captured. Roland was placed in Stalag Luft I where he spent the rest of the war.

SERGEANT HUGH MCGINTY
Enlisting in the Air Corps along with his younger brother, Hugh McGinty found himself assigned to the B-17F "Censored" in the 524th SQD, 379th BG at Kimbolton where he flew his first mission to Emden, Germany on Dec. 11, 1943. Hugh would fly another 28 missions, many aboard a new B-17G, "The Blue Blazing Blizzard," and often in the same formation as Lt. Charlie Brown, of "A Higher Call" fame. One of Hugh's closest calls was on his Jan. 29, 1944 mission to Frankfurt where the "The Blue Blazing Blizzard" was shot up by fighters, resulting in the death of his navigator Lt. Bill Rau, who clung to life long enough to set the bomber on a course for home. Another memorable mission for Hugh was the April 13, 1944 strike on the ball bearing factories at Schweinfurt, with far fewer losses this time than the "Black Thursday" raid. Flying his final mission on May 24, 1944, to Berlin, Hugh returned home where he would reunite with his brother Lucky, who also survived his combat tour as a gunner in the 95th BG.

UNTERFELDWEBEL HANS MEYER
Born in 1927 and having grown up in Brandenburg, Hans had a deep passion for aviation so he joined the Flieger-HJ where he was taught to fly gliders. By 1943 he had earned his glider proficiency badge "C" level and joined the Luftwaffe shortly afterward. Trained to fly the Bf 109 at Jagdfliegerschule Werneuchen, Hans graduated and joined JG 54 on the Eastern Front where he flew with the unit in combat against Soviet Forces until shot down near Königsberg and hospitalized. He would later immigrate to America.

MASTER SERGEANT E. E. "MITCH" MISCHLER
Enlisting in the Air Corps at age 18, Mitch was assigned to the 333rd SQD, 94th BG at Bury St. Edmunds in England where he served as a left-waist gunner aboard the B-17 "Pride of the Yanks." He flew his first of 25 missions in October 1943 and would participate in "Big Week" and several missions on heavily defended Berlin. Mitch's most memorable raid was on an aircraft parts factory at Brunswick, January 11, 1944. On that mission, the weather deteriorated and an 8th Air Force recall was issued. Mitch's group and two others continued on to target anyway, fighting off fierce Luftwaffe attacks in and out of the target area, braving heavy flak, and making two bomb runs to guarantee they hit the factory in the bad weather. The 94th lost eight B-17s that day, some 80 men, and Mitch considers himself lucky to have survived the mission, which earned the group a Distinguished Unit Citation. He flew his last mission on March 8, 1944 to Berlin, a fitting end to his bomber tour. When Mitch returned home, he was elated to discover that he can be seen in the celebrated wartime newsreel, "Target for Today."

SERGEANT GEORGE ROBERTS (SIGNATURE CARD)
George entered the Air Corps at the age of 21 and by October 1943 was stationed in England as a radio operator aboard the B-17F "Cavalier" in the 367th SQD, 306th BG. George's fourth mission was the "Black Thursday" Schweinfurt raid where his B-17 was the only one from his squadron to make it to the target and back. On later missions, due to his skill, George flew aboard his squadron's lead B-17. In March 1944, his crew was given a new B-17G which they named "Princess" and then "Princess Elizabeth" until the Lord Mayors of London felt it would be a bad omen if the plane was shot down so it was changed to "Rose of York." On July 6, 1944, the King, Queen and Princess Elizabeth, along with Gen. Doolittle, visited George's base to christen the aircraft that he would fly his final 16 missions on. Today, George's "Rose of York" A2 jacket can be viewed on display at the 8th Air Force Museum in Savannah, GA.

COLONEL BILL ROCHE
Following his brother, Bill joined the Air Corps in hopes of becoming a pilot. The Army had other plans and needed to replace gunners, since when a bomber went down so did five gunners. In Nov. 1944, Bill headed to England and joined the 741st SQD, 452nd BG as a B-17 waist gunner. Bill flew nine missions and was shot down twice, the first time in the B-17 "Lucky Lady III," on Feb. 9, 1945, when they lost an engine and their electrical system to flak and had to conduct a forced landing in France. The second time, Feb. 26, 1945, Bill's B-17, "Flatbush Floogie," was hit over Berlin. Putting down the gear, his pilot brought the plane down in Soviet occupied Poland where they hoped the Soviets would repair the aircraft and let them fly home. Instead, they seized the plane and locked up Bill and the crew and held them captive until April when they were freed in Odessa, Ukraine. After the war, Bill earned an ROTC commission and had a 30+ year career in the Air Force, including teaching Russian at the Air Force Academy and Air Attache deployments in Yugoslavia, Czechoslovakia and the Soviet Union. Leaving the Air Force, Colonel Bill Roche then served for over a decade in the CIA, where much of his work remains classified to this day.

CAPTAIN SAM SATARIANO
Californian Sam Satariano volunteered for the Army Air Corps and found himself in the pilot's seat of a B-17F as part of the newly formed 379th BG and it's 527th SQD. As an original member of the group, he piloted his B-17 across the Atlantic in spring 1943 when they were deployed to Station 117 - RAF Kimbolton in England. There, Sam would beat the odds as he would be among a small group of original cadre who flew and survived 25 combat missions during the bloody days of the 1943 air war. He would be there for the group's first ever mission - to hit the German U-boat pens at St. Nazaire - and he would be there for the first raid on Schweinfurt, August 17, 1943 where 24 B-17s were lost. He would pilot B-17s such as "Piccadilly Willie" and "Lakanukie" and would contribute to the 379th setting two 8th Air Force records - for the most sorties flown and the most bombs dropped during WWII.

LIEUTENANT FRANZ STIGLER (SIGNATURE CARD)
Franz began flying gliders at age 12 and later became a Lufthansa pilot, before joining the Luftwaffe as a flight instructor. Requesting a combat assignment after the death of his brother, Franz flew combat as a Bf 109 fighter pilot in North Africa, Sicily and in defense of Germany, including during the "Black Thursday" raid. He served as a squadron commander, and even acting group commander, before he was hand-picked as the technical officer of Gen. Galland's elite JV 44, "Squadron of Experts," flying the Me-262 jet fighter. Franz was credited with 28 victories during more than 487 combat missions. He was made an honorary member of the 379th BG Association, in honor of his sparing of the B-17 "Ye Olde Pub," a story told in the bestselling book A Higher Call, written by Valor Studios co-founder Adam Makos.

CAPTAIN FRED WIESE
Leaving his studies at the University of Nebraska, Fred enlisted in the Army in 1941 where he was assigned to the medical corps. When the war heated up he volunteered for the Air Corps and became a B-17 pilot assigned to the 508th SQD, 351st BG at Polebrook, England. There Fred flew his first mission to strike the railyards of Cologne on October 17, 1944 and 35 others, to heavily defended targets like Berlin, Hamburg and Frankfurt. He survived everything the enemy could throw at him from flak that took out two engines to Me 262 attacks. Despite these close calls, Fred got his crew back home on every mission, aboard B-17s like "The Little One," "Merrie Christie," "Lucky Jewell," and "Annie Marie," and all without anyone being wounded. With the completion of his combat tour in March 1945, he returned to the states where he ferried B-17s and B-29s and even served a stint flying B-29s into storms to gather scientific data. He was called back to duty for the Korean War where he served as a transport pilot until 1953.