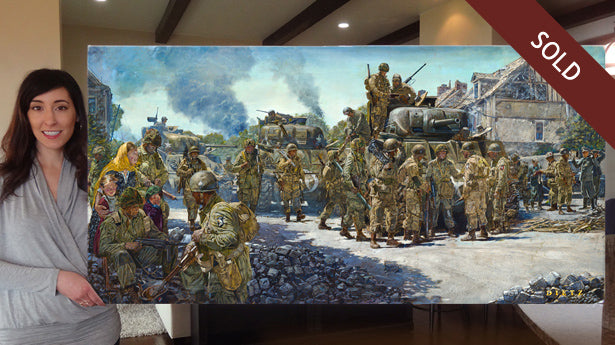 "Day of Days" Original Painting by James Dietz
Now is your chance to own a masterpiece by the world's top combat artist - James Dietz. "Day of Days" shows the Band of Brothers with the first tanks off Utah Beach, set shortly after the fight at Brecourt Manor.

This event was depicted in the Emmy-winning mini-series during Ep. 2, "Day of Days." Shown in the painting are Dick Winters, Ron Speirs, Wild Bill Guarnere, Lewis Nixon, Buck Compton, and more!

This original oil painting on canvas is a massive 60" x 30", and is sold unstretched and unframed. Adding to the incredible history of the scene are the autographs on the back by fourteen paratroopers, pilots, and tankers who fought in the Normandy campaign.

Jim Dietz has gained international recognition in aviation, military and automotive art circles for his unique approach to these genres. "The people, settings and costumes are what make early 20th Century history exciting and romantic to me."

It is this feeling that makes Jim Dietz and his artwork so different from his contemporaries. Rather than simply illustrate hardware, Jim prefers to portray human involvement, to show in his paintings the interaction between man and machine-after all, he says, "it is the people who make machines great-by design, by operation and by dedication."

A native of San Francisco, Jim graduated from Art Center College of Design in 1969 and began a successful illustration career. In 1978, Jim and his wife to move to Seattle where he began to fulfill his dream of specializing in historical aviation, automotive and military art. His clients have included everyone from Boeing to the Army's Delta Force.

Jim still lives in Seattle, with his wife, Patti, son, lan and his Australian Shepherd, Tazzy, who is seen often in Jim's paintings. His studio resembles a World War I aviator's bar, filled with flying and automotive memorabilia, wooden props and model airplanes.