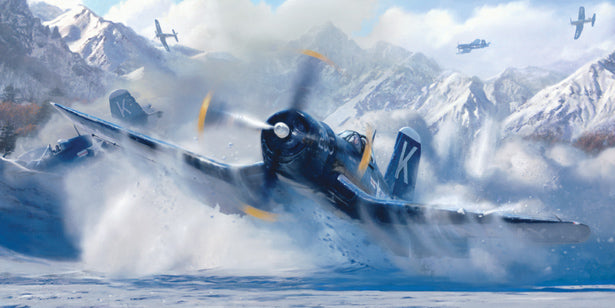 Devotion by Matt Hall
DESCRIPTION
EDITIONS
SIGNERS
PAYMENT PLAN
December 4, 1950: Hit by anti-aircraft fire while supporting the Marines at the Chosin Reservoir, Ens. Jesse Brown, the Navy's first African-American aviator, crashed behind enemy lines. His squadron mates from VF-32 thought Brown was dead—until they saw him slide back his canopy and wave. But, Brown did not climb free—he was pinned in his Corsair's burning wreckage. While his comrades called for a rescue helicopter and circled to ward off any enemy troops, Brown's wingman, Lt. Thomas Hudner, intentionally crash-landed in that treacherous terrain to try to save his friend.

Wading through snow and subzero temperatures, Hudner reached Brown's plane and tried to pull him free, but the snow denied him any footing. Brown remained calm, inspiring Hudner. Hudner gave Brown his hat and gloves then used snow, shoveled with his bare hands, to snuff out the fire. When the rescue helicopter arrived, its pilot joined Hudner. Even working together, they could not free Brown, whose leg was pinned and who was in shock. As daylight faded, with Hudner at his side, Jesse Brown passed away. The rescue helo lifted Hudner, exhausted, from the scene.

Four months later, President Truman summoned Hudner and Jesse Brown's widow, Daisy, to the White House where he awarded Hudner the Medal of Honor. That day, they all remembered Jesse Brown, a hero who did not die alone.

Want to know "who" signed which print edition? Click the EDITIONS tab above.

Shipping added in checkout // print size: 31" x 19" // ships rolled in a tube

ARTIST PROOF - Resale, in mint condition!
Sold out more than a decade ago, this ultra-rare Artist Proof print is from an edition of 180 prints, signed by Matt Hall and four Corsair pilots who flew alongside Ensign Jesse Brown: Medal of Honor recipient Tom Hudner, VF-32 pilots Marty Goode & Bill Koenig, and VF-33 pilot Bill Sallada. Includes Navy wings, four photos related to Tom & Jesse and a COA with "History Behind the Art."

VICTORY EDITION - Low Supply!
650 limited-edition prints, signed by Matt Hall and Medal of Honor recipient Captain Tom Hudner (depicted). Includes four photos related to Tom & Jesse, Navy wings and a COA with "History Behind the Art."


"Devotion" is hand-signed by a collection of Korean War heroes! Signers vary print by print. Please click "editions" to see which veterans signed which prints.

CAPTAIN TOM HUDNER (Medal of Honor)
A graduate of the Naval Academy, Tom flew combat missions with VF-32 in the fall of 1950. Despite being previously warned to avoid any "Hollywood rescue heroics," Tom crash-landed his F4U to try to save his wingman, Jesse Brown, just one day after the moment shown in "Off to the Chosin." For his actions, he was awarded the Medal of Honor in 1951. In 2013, Tom returned to North Korea on a mission to find Jesse's remains. While he was unable to visit the Chosin Reservoir area, his visit impressed Supreme Leader Kim Jong Un who ordered his military to "find Jesse Brown."

COMMANDER MARTIN GOODE
Marty enlisted in the Navy in December 1945 and became an aviator in October 1949. He joined VF-32 and was deployed to Korea with the squadron aboard the USS Leyte. On December 3, 1950, Marty helped locate the Chosin Reservoir, during a snowstorm, an action that allowed the Leyte's aircraft to provide support for the Marines below. Throughout December, Marty would fly many Close Air Support missions to help the Marines. Following Korea, Marty remained in the Navy and became a helicopter pilot, eventually testing helicopters at Sikorsky.

COMMANDER WILLIAM KOENIG
Bill was commissioned in the Navy in May 1946. In fall 1950, he and his squadron (VF-32), deployed to Korea aboard the USS Leyte. Jesse Brown was his roommate. On Dec. 4, 1950, Koenig provided air cover during the attempted rescue of his good friend, Jesse Brown.

CAPTAIN BILL SALLADA
The son of Vice Admiral Harold Sallada who commanded carriers in WWII, Bill followed in his father's footsteps as a Navy pilot. Assigned to VF-33, a sister squadron of VF-32, Sallada was aboard the USS Leyte for the 1950 combat cruise to Korea. There, he flew F4Us, and was in the air on Dec. 4th providing support to the Marines near the Chosin Reservoir.



We've teamed up with the leading e-commerce company, Partial.ly, to offer you a three-month payment plan on the "Devotion" Artist Proof.

While the plan is interest free, there is a one-time $5 service fee that goes to Partial.ly. To start your plan, please read our terms below and click the Partial.ly button to begin.

If you wish to put multiple items on payment plan please email us at staff@valorstudios.com and we'll create a custom Partial.ly plan for you.

PAYMENT PLAN TERMS
- Payments are automatically processed each month by Partial.ly.
- Payments are non-refundable.
- Your print will ship upon completion of your payment plan.