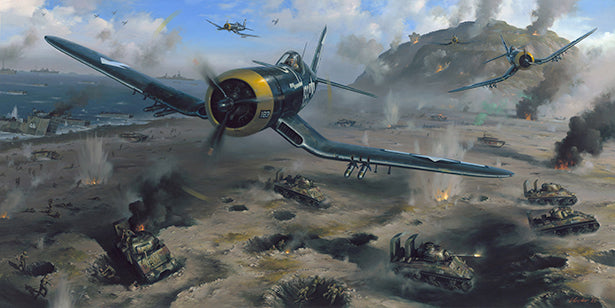 Falcons Over Iwo by Gareth Hector
DESCRIPTION
EDITIONS
SIGNERS
February 19, 1945: It's D-Day in the Pacific as the F4U Corsairs of VMF-221, the "Fighting Falcons," rip over the beachhead. Meanwhile, the men of the 4th and 5th Marine divisions battle inland. For many of them, it's the first time they've witnessed Marine Close Air Support, and the impression is resounding: "It was magnificent!"

For "Fighting Falcons" pilots like 2nd Lt. Dean Caswell, an extra dose of motivation has them "scrapping their bellies" to deliver their strikes: they're flying for their fellow Marines. And the Japanese notice, radioing that "The enemy's air control is very strong... aircraft are flying ceaselessly." Before the day ends, 30,000 Americans will have successfully landed on Iwo Jima bringing VJ-Day one step closer.

Want to know "who" signed which print edition? Click the EDITIONS tab above.

Shipping added in checkout // print size: 31" x 19" // ships rolled in a tube 


ARTIST PROOFS: 50 LIMITED-EDITION PRINTS  
Includes 6 signatures from Marine & Navy veterans of the Pacific War: Corsair ace Dean Caswell (sig card), Corsair pilot Bill Lucas (flew off Iwo), Battle of Iwo Jima survivors Jim Blane, Don Whipple, and Cole Griego, and Pacific Marine hero Sid Phillips. Includes Marine pilot wings, photos, and a Certificate of Authenticity signed by artist Gareth Hector.

MAIN EDITION: 200 LIMITED-EDITION PRINTS  
Signed by 2 Iwo Jima Marines: Al Jennings and Don Whipple, who made two landings on Iwo in a span of a week! Includes a Certificate of Authenticity signed by artist Gareth Hector.

PUBLISHER PROOFS: SOLD OUT  
100 limited-edition prints including 8 signatures from Pacific War veterans

OTHER EDITIONS
A Signer Proof edition of 50 prints exists, not-for-sale. An Eagle Proof edition of 10 prints was released and instantly sold out. A limited-edition of 45 canvases may be released in the future.


"Falcons Over Iwo" includes the autographs of Marine & Navy heroes who fought throughout the Pacific during WWII! Signers vary print by print. Please click "editions" to see which veterans signed which prints.

Harry Bender
A machine gunner in K-Company (K-3-5), the famed company depicted in HBO's "The Pacific," Harry fought at Okinawa, where he was wounded. Harry's first hand accounts of combat can be read in "Voices of the Pacific" by Valor Studios co-founder Adam Makos.

James Blane
James enlisted in the Marines following the Pearl Harbor attack and found himself assigned to the 4th Marine Divsion. There, Jim participated in an incredible four amphibious assualts including those at Kwajalein, Saipan, Tinian, and Iwo Jima, where he was wounded in action.

Lyle Bradley
During WWII, Lyle flew Corsairs with VMF-123 off the USS Bennington providing close air support to the Marines landing on Iwo Jima. Later, in the Korean War, he flew with the "Black Sheep" in support of the Marines trapped at the Chosin Reservoir.

Dean Caswell (Signature Card)
As a Corsair pilot in VMF-221 aboard the USS Bunker Hill, Dean flew in support of the Marine invasion of Iwo Jima on February 19, 1945, the moment depicted in "Falcons Over Iwo." He later became an ace having shot down seven Japanese aircraft and earning the Silver Star in the process. Post war, he would fly with the Blue Angels before returning to combat missions in Korea and Vietnam.

Escolastico "Cole" Griego
As a Navy Corpsman, "Cole" was assigned to the 5th Marine Division and participated in the invasion of Iwo Jima on February 19, 1945. At one point, he found himself treating wounded at the base of Mt. Suribachi when he looked to the summit and saw the flag raising. He would later say that, "It was the best day of my life watching that flag go up." "Cole" treated countless wounded under fire over the 36 days of fighting and would survive the battle without being wounded himself - a rare feat on Iwo.

Al Jennings
As a 19-year-old rifleman in I Company, 3rd Battalion, 26th Regiment, 5th Marine Division, Al landed on Iwo Jima on D-Day and fought throughout the entire 36 days of the campaign. At one point during the battle, Al had the most unexpected reunion - he ran into his brother who was also a Marine fighting on the island! Luckily, both survived the bloody fighting.

Dan Lawler
A machine gunner in K-Company (K-3-5), the famed company depicted in HBO's "The Pacific," Dan fought at Peleliu, where he was wounded, and Okinawa. Dan's first hand accounts of combat can be read in "Voices of the Pacific" by Valor Studios co-founder Adam Makos.

Chuck Lindberg (Signature Card w/Eagle Proofs)
Chuck joined the Marines following Pearl Harbor and volunteered for the elite Marine Raiders. As a Raider, he fought on Guadalcanal and on Bougainville, before returning to the states. There, he was assigned to the new 5th Marine Division. On February 19th, 1945, Chuck, now a flamethrower operator, landed with the fifth wave on Iwo Jima. Two days later, he earned the Silver Star when he participated in a major assault against pillboxes and blockhouses at the base of Mount Suribachi. The following morning, February 23rd, Chuck and the other survivors of the 3rd Platoon (E/28th), secured the top of Mount Suribachi. Chuck then became part of Marine Corps legend when he and five other Marines raised a pipe with an attached American flag to cheers of Marines & sailors on the island below and on the ships anchored nearby. The 3rd Platoon moved to the northern front to continue the fight on February 27th. Two days later on March 1st, Chuck would leave the battle with a serious arm wound. Following stateside recovery from his wound, Chuck was discharged from the Marines after more than five years of service. His awards include four battle stars for action at Midway, Guadalcanal, Bougainville and Iwo Jima.

Bill Lucas
As a Corsair pilot in squadrons VMF-216, "The Bulldogs," and VMF-224 "The Bengals," Bill flew combat missions from Guam, Kwajalein, Okinawa, and even off Iwo Jima. He later fought in the Korean War, flying Corsairs and observation aircraft, earning a Silver Star and two DFCs. During the Vietnam War, Bill commanded Marine Helicopter Squadron 364.

Sterling Mace
A rifleman in K-Company (K-3-5), the famed company depicted in HBO's "The Pacific," Sterling fought at Peleliu and Okinawa. He would later author the book "Battleground Pacific" and is also featured in the book "Voices of the Pacific" by Valor Studios co-founder Adam Makos.

Sidney Phillips
Sid joined the Marines at age 17 and found himself fighting on Guadalcanal and New Britain as a mortarman in H-Company, 1st Marines (H-2-1), 1st Marine Division, the same unit as "Helmet for My Pillow" author Robert Leckie. Sid has become internationally-known after his notable role in Ken Burns' documentary, "The War," and the Tom Hanks/Steven Spielberg miniseries, "The Pacific" and for his beloved memoir, "You'll Be Sor-ree!"

Darrell Smith
Darrell flew Corsairs during WWII as part of VMF-312, the "Checkerboards". Based at Kadena airfield immediately following the invasion of Okinawa, he flew intense combat missions in support of the Army and Marines as they fought to wrestle the island from the Japanese. During the Korean War, Darrell would fly Corsairs, once again, supporting the 1st Marine Division trapped at the Chosin Reservoir. He would earn the Distinguished Flying Cross twice, for his heroics in both wars.

Don Whipple
As a forward artillery observer in the 28th Combat Team, 13th Marines, 5th Marine Division, Don landed in the second wave of the Iwo Jima invasion on D-Day. Soon after, he was wounded by enemy artillery fire and taken to a hospital ship where he escaped from two days later to rejoin his unit, making his second landing at Iwo Jima, both times under fire. He was sent up Mt. Suribachi to call in artillery fire and there witnessed the first flag raising.

Hershel "Woody" Williams (Signature Card)
Wanting to join the Marines, "Woody" was initally rejected in 1942 for being too short so he waited for the height standards to be lowered and in 1943 was able to enlist. He was trained as a flame thrower operator and saw combat on Guam as part of Company C, 21st Marines, 3rd Marine Division. On February 21st, "Woody" landed on Iwo and immediately went into action. Two days later he would earn the Medal of Honor. His citation is as follows:

Quick to volunteer his services when our tanks were maneuvering vainly to open a lane for the infantry through the network of reinforced concrete pillboxes, buried mines and black, volcanic sands, Corporal Williams daringly went forward alone to attempt the reduction of devastating machine-gun fire from the unyielding positions. Covered only by four riflemen, he fought desperately for four hours under terrific enemy small-arms fire and repeatedly returned to his own lines to prepare demolition charges and obtain serviced flame throwers, struggling back, frequently to the rear of hostile emplacements, to wipe out one position after another. On one occasion he daringly mounted a pillbox to insert the nozzle of his flame thrower through the air vent, kill the occupants and silence the gun; on another he grimly charged enemy riflemen who attempted to stop him with bayonets and destroyed them with a burst of flame from his weapon. His unyielding determination and extraordinary heroism in the face of ruthless enemy resistance were directly instrumental in neutralizing one of the most fanatically defended Japanese strong points encountered by his regiment and aided in enabling his company to reach its' objective.

Following that day, "Woody" continued to fight in combat, despite being wounded in the leg, through the duration of the battle for the island. On October 5, 1945, he was awarded the Medal of Honor by President Truman at the White House. Prior to his death in June 2022, "Woody" was the last-living Medal of Honor recipient from World War II.