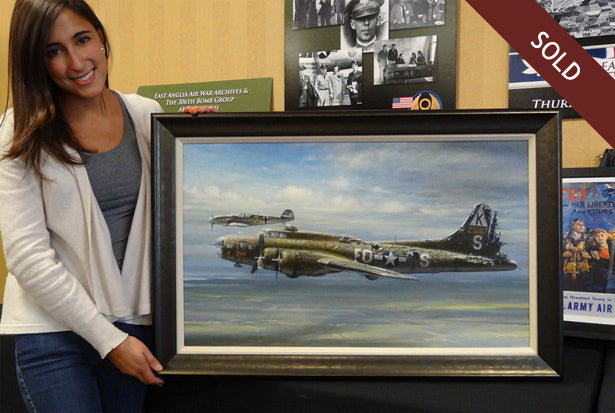 "In the Presence of My Enemy" Original Painting by John D. Shaw
Now is your chance to own a one-of-a-kind art masterpiece by famed painter John D. Shaw, depicting the most revered act of chivalry in wartime: Franz Stigler escorting the B-17 "Ye Olde Pub" out of Germany!

Released as a print in early 2013, "In the Presence of My Enemy" sold out within the year to fans of the international bestselling book, "A Higher Call" by Adam Makos, Valor Studios' publisher.

Now, with "A Higher Call" released in the UK, France, Germany, Hungary, and Poland, the story of Franz Stigler and Charlie Brown is becoming more popular than ever.

This painting is sold framed, signed on the back by 18 decorated veterans of the air war in Europe, including two German pilots.

This original oil painting is on board, a method used by many of the old masters since it is more resilient than canvas.

This is the last John D. Shaw painting we have in stock, so don't hesitate to make an offer today on this stunning painting and ultimate "A Higher Call" collectible!

John D. Shaw has pursued his art and graphics career since 1985 and is a veteran of both the fine art and commercial art fields. As an illustrator, Shaw created artwork for clients such as Lucas Films Ltd., Kellogg's, and Major League Baseball. Shaw's work took a new emphasis in 1993, when he began creating paintings with a historical theme.

Shaw's artwork hangs in the collection of President Bush '41, President Bush '43, the Cavanaugh Flight Museum, and private collections worldwide. His art has adorned the covers of magazines like Private Pilot's Aviation Art Gallery, World War II, World War II History, Aviation History, and our own publication, Valor.