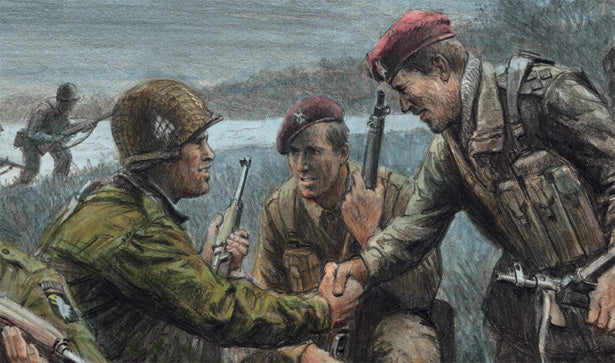 Operation Pegasus by Gil Cohen
DESCRIPTION
EDITIONS
SIGNERS
Just after midnight on October 23, 1944, approximately twenty paratroopers of E-Company, 506th PIR, 101st Airborne, led by Lt. Fred "Moose" Heyliger, crossed the Lower Rhine into German-held territory in Holland. Their mission—evacuate 125 men of the British 1st Parachute Division, survivors of the Arnhem fighting, along with a mixed group of Dutch resistance fighters and downed American airmen.

Not long after crossing the river, the E-Company paratroopers made contact with their British counterparts whose gratitude could not be contained despite the danger nearby. Amidst handshakes, gifts of red berets, and the frequent expression, "God bless you, Yank," all would make it to the boats, across the river, and by 1:30 a.m. were safely behind American lines, thanks to the daring of Operation Pegasus.

Want to know "who" signed which print edition? Click the EDITIONS tab above.

Shipping added in checkout // print size: 19.25" x 14.25" // ships rolled in a tube


FOUR SIGNATURE EDITION
300 limited-edition prints, unnumbered, signed by four WWII heroes: "Red Devil" paratrooper Major Tony Hibbert rescued during Operation Pegasus, Easy Company paratroopers Ed Mauser and Brad Freeman who participated in Pegasus and Earl McClung who participated in Market Garden. Includes COA. 

TWO SIGNATURE EDITION
400 limited-edition prints, unnumbered, signed by Easy Company paratroopers Brad Freeman, who participated in Pegasus, and Earl McClung, who participated in Market Garden. Includes COA.

SIX SIGNATURE EDITION - Sold Out
250 limited-edition prints


"Operation Pegasus" is hand-signed by a collection of WWII heroes! Signers vary print by print. Please click "editions" to see which veterans signed which prints.

BRADFORD FREEMAN
Brad Freeman was born and raised in the lush Mississippi farmlands of Lowndes County, near Columbus. He was one of 8 children, 3 of whom fought in the war. After high school graduation he enrolled in Mississippi State University, which he attended for one semester before enlisting in the US Army on December 12, 1942.

He joined the paratroopers, following in the footsteps of his older brother, who became an officer in the 11th Airborne. Freeman was assigned to the 506th PIR., 101st Airborne at Alderbourne, England in February 1944. There, he trained under the watchful eye of mortar squad leader Don Malarkey and platoon leader Bill Guarnere, both of whom he describes as great fighting men.

On D-Day Freeman parachuted into Normandy in Malarkey's stick, forming up and fighting with Sgt. Chuck Grant until they joined the company near Brecourt Manor. Freeman vividly remembers the fierce fighting at Carentan, where he feels E-Company came together as a combat unit.

Freeman participated in the invasion of Holland, and recalls endless patrols and "scary" night outpost duty on the banks of the Rhine. Following Market Garden Freeman survived the brutal weather and constant shelling in the Bois Jacques woods at Bastogne only to be wounded by a "screaming mimi" (Nebelwerfer rocket) in Easy Company's attack on Foy. Following release from a hospital in England, Freeman joined up with HQ Staff in Berchtesgaden in April 1945, and later with his E-Company comrades in Kaprun, Austria.

After the war Brad Freeman went back to Mississippi State University for a semester, and then returned to help run a 197 acre family farm in Lowndes County. He later worked with the US Postal Service, retiring after 32 years of service.

MAJOR TONY HIBBERT
Major Tony Hibbert's WWII career of legend began in 1938 when he was commissioned into the Royal Artillery as a Second Lieutenant and fought in the battle for France before being evacuated at Dunkirk.

He then joined No 2 (Parachute) Commando and served in North Africa and Italy. In 1944 he was posted as Brigade Major to the 1st Parachute Brigade for Operation Market Garden.

During Market Garden, Tony was one of approximately 750 paratroopers of the 1st Parachute Brigade to reach Arnhem Bridge and attempt to hold it. After 72 hours of fierce fighting, the Germans had concentrated a ring of tanks and artillery around the British perimeter which was by then only 150 by 200 yards, with less than 100 of the original 750 "Red Devil" paratroopers still standing.

Tony asked the Germans to agree to a two hour "Cease Fire" and for their help to help to get the wounded out of the cellar of a Dutch manor house that served as the Red Devil's HQ, which they provided. Following the cease fire, Tony split the remaining defenders into escape & evasion parties although he would be captured.

Enroute to a POW camp, Tony jumped from a truck's rear gate and escaped. Linking up with the Dutch resistance, he then worked to collect other Airborne evaders and moved them into position for the great "Pegasus 1 Escape" on October 23, 1944, the culmination of which is depicted in Gil Cohen's masterful art. The only casualty of Pegasus happened to be Tony, who was injured in a jeep accident caused by a salvo of Germans mortars fired shortly after the rescue. For his involvement in Operation Pegasus, Tony would receive the Military Cross.

ED MAUSER
The release of "Operation Pegasus" is bittersweet for Valor Studios and history buffs everywhere, because our friend, Ed Mauser, is no longer here to enjoy this moment. Ed, "The Oldest Eagle" of the Band of Brothers, passed away from pancreatic cancer on January 21, 2011. His illness came on rapidly but Ed remained in unbelievably high spirits.

Luckily, he got to enjoy "Operation Pegasus," "his" print, before the end came. Ed was proud to have been on this mission to rescue the Red Devils. In fact, as Valor Studios traveled with Ed to shows and public events in 2010, he recommended we commemorate this daring milestone of WWII.

We listened, and artist Gil Cohen drew Ed into the forefront of the scene.

When Ed first saw Pegasus, that big, affable, Midwestern grin spread across his face. Although he could plainly see his likeness in his figure, he made us confirm, again and again, that that was him. When he first signed the prints in August 2010 at an event in Ft. Walton Beach, Florida, he'd pull every visitor to the hospitality room aside and ask, "Do you think that looks like me?"

They'd say "Yes it does!" and Ed would nod and smile. He just loved hearing it.

When Ed was sick, Erica Makos, of Valor Studios, delivered an enlarged version of "Operation Pegasus" to Ed, so he had something "special" to hold onto. (Normally, Ed liked holding onto Erica, but that's another story!). At the time, we didn't know how much it meant to him.

When Ed came home from the hospital soon after being diagnosed with terminal cancer, his son-in-law Mike Fowler, (who tirelessly cared for Ed), wrote:

Ed got home today. He's doing pretty well and his spirits definitely improved. The first thing he asked for was to see his print from Valor Studios titled "Operation Pegasus." I got a picture of him with the print to share with everyone here (see photo above). We even got a big smile out of him. He's very relieved to be back in his own home.

Ed is extremely proud of this print because it is the first one that was done that specifically includes him (he's the soldier on the left holding the rifle)…Ed has relayed this story to me before and he was always fond of saying "That mission would have been a lot easier if we didn't have to deal with the language barrier."

Always positive, always humorous, steadfast, and in love with life, this is how we will remember Ed Mauser. "Operation Pegasus" is just a small reminder of a great man. But, Ed never thought of himself in such a grand way, evident by some of his last words:

"I was part of a unit made up of the greatest guys in the world - Easy Company" – Ed Mauser

EARL MCCLUNG
Earl McClung was born on April 27, 1923 at the Colville Indian Reservation in Inchelium, Washington. While in his senior year of high school, on Feb 15, 1943, McClung was drafted into the U.S. Army. He underwent infantry basic training at Camp Walters, Texas, and volunteered for Airborne training at Fort Benning, Georgia.

McClung joined Company E, 506th Parachute Infantry Regiment, at Fort Bragg, North Carolina before shipping out to England. He participated in all of 101st Airborne Division's major campaigns in the European Theatre of Operations as a scout in the Third Platoon. He received two Bronze Star awards for valor and the Purple Heart for being wounded in the line of duty.

McClung left the service in 1947 and worked for the Postal Service, for 17 years. He then worked for 13-years as a game warden on the Collvile Indian Reservation, a post from which he retired in 1988.