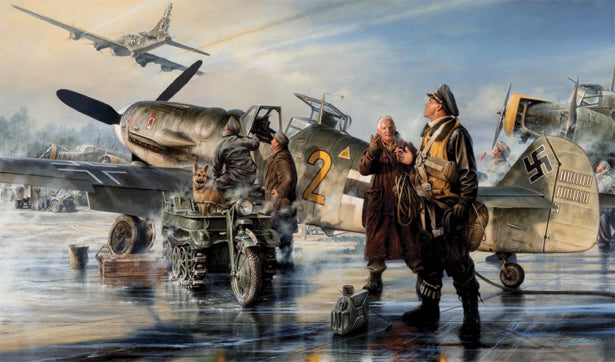 Prey For Mercy by John D. Shaw
DESCRIPTION
EDITIONS
VIDEO
December 1943: The stricken B-17F "Ye Olde Pub" of Charlie Brown and crew nearly met disaster following a bomb run over Bremen. Wrestling the "Pub" out of its death-dive, Brown had no way of knowing he'd leveled out above a fighter base at which ace Franz Stigler's Bf-109 had just been rearmed.

As the American bomber limped overhead, Stigler and crew watched in amazement as this easy prey would not be only the 2nd B-17 he would claim that day, and add another "kill" to avenge his beloved brother he'd lost at the start of the war, but also would earn him the coveted Knight's Cross. It was not to be . . .

Upon pursuing and catching the Americans, Stigler saw the fear on the faces of the helpless B-17 crew. A sense of honor overrode his military duty, and at the risk of his own execution, he escorted the wounded plane to the coast, saluting Brown and his astonished crew. Half a century later the two pilots would meet, and the former enemies would develop a friendship so close that Stigler would come to consider Brown to be as the brother he'd lost.

Shipping added in checkout // print size: 33" x 22.5" // ships rolled in a tube


VALOR STUDIOS PACKAGE
Our EXCLUSIVE Valor Studios Package includes: A Main Edition print of "Prey for Mercy" signed & numbered by John D. Shaw. Unsigned photos of Charlie & Franz and a color photo of them together. Franz's squadron pin and an 8th AF pin. A Certificates of Authenticity.

OTHER EDITIONS
6 canvas giclees will be produced by Valor Studios, email us to learn more. "Prey for Mercy" is published by John Shaw's Liberty Studios. A Gallery Proof edition exists, not for sale. 50 PPs, 100 APs & 40 SE paper giclees are sold out.

Watch Franz & Charlie describe their encounter in this rare CBS News report!