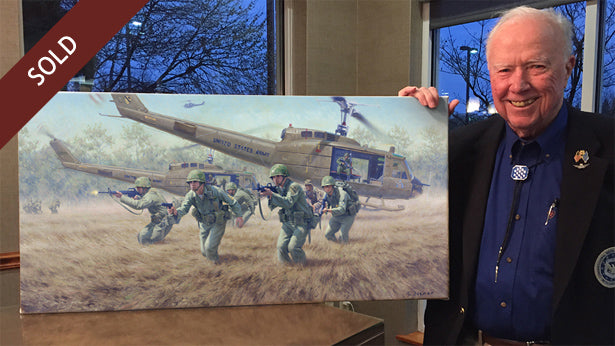 "Sky Soldiers" Original Painting by Larry Selman
Now is your chance to own a one-of-a-kind masterpiece by Larry Selman. "Sky Soldiers " shows Lt. Col. Hal Moore and the men of the 7th Cavalry as they arrive at LZ X-Ray in the Ia Drang Valley.

This original oil painting on canvas is 38" x 19", and sold unframed. Adding to the incredible history are the autographs on the back by five men who were at the Battle of Ia Drang including:

- Medal of Honor recipient Bruce "Old Snake" Crandall (show at left), whose Huey is depicted in the scene!

- Four stint Vietnam war correspondent & Bronze Star recipient Joe Galloway, co-author of "We Were Soldiers Once...and Young"

- A-Company (1/7 Cav) assistant machine gunner Bill Beck

- B-Company (1/7 Cav) lieutenant Dennis Deal

- Silver Star recipient & LZ Albany survivor Bud Alley (2/7 Cav)

Having previously sold our other Selman painting, this is the only one we have for sale so don't wait to add this ultimate collectible to your wall!

Larry was born in Pennsylvania and raised in a military family. Following graduation from York Academy of Art in 1982, he built a successful career in the illustration field with his work appearing on the majority of the GI Joe Classic Collection packaging.

Larry was involved with the building of the World War II Memorial, when asked by lead sculptor Ray Kaskey, to provide authentic equipment and historical expertise for the sculpting of the 28 bronze plaques that would line the entrance steps to the Memorial.

Now concentrating on historical fine art, his original works can be found at the Army War College, the Command & General Staff College, and on numerous other military bases & museums.

Larry is the only artist to depict every era of American military history and every branch of service. He has worked with Medal of Honor recipients Francis Currey and Mitchell Paige, Ranger legend Leonard Lomell, and the famed Band of Brothers, from generals, and highly decorated soldiers and new recruits.