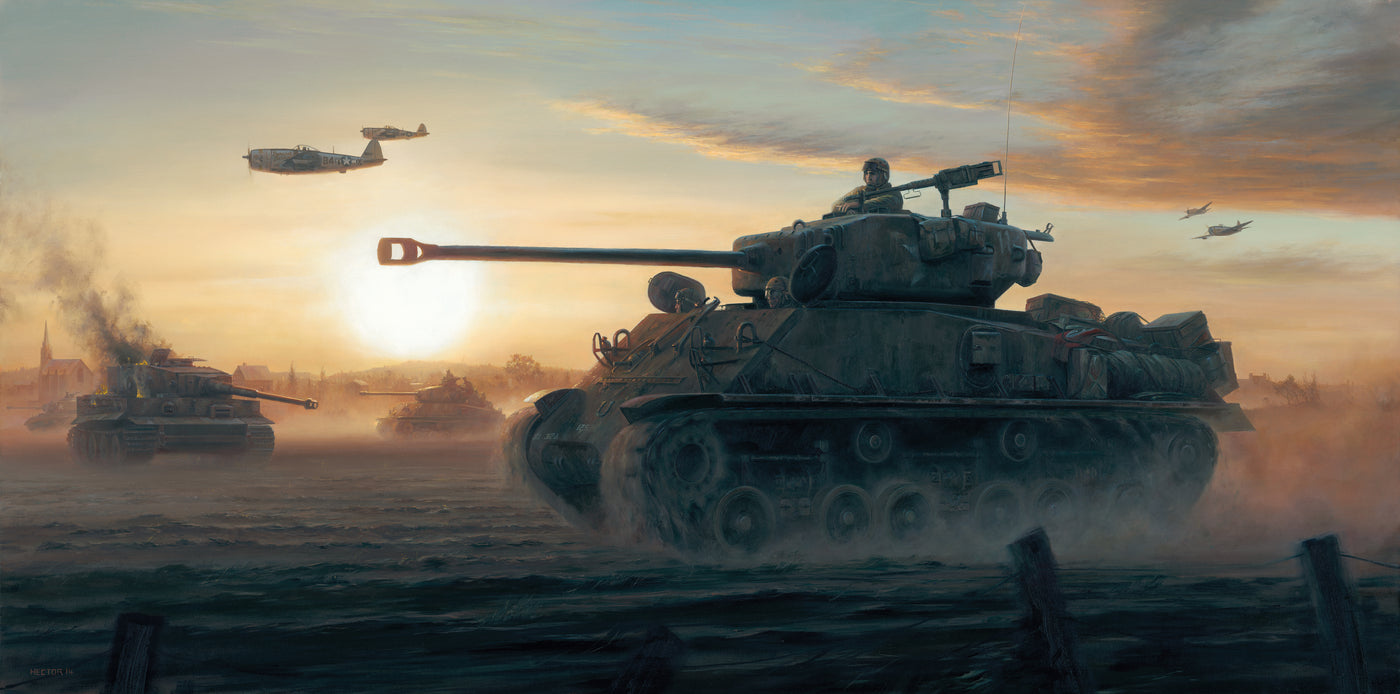 Unstoppable by Gareth Hector
DESCRIPTION
EDITIONS
SIGNERS
April 1945: At dawn, Shermans and a Pershing from E-Company (32nd Armored Regiment, 3rd Armored Division) spearhead the advance into Germany. Ahead lies enemy armor, anti-tank guns, and desperate soldiers defending their homeland. The odds are against Clarence Smoyer and his fellow American tankers. In armored combat, the defender often shoots first and for every Sherman damaged, the stats say that one of the American boys inside will be killed and another, wounded.

Despite these harsh realities, the tankers of Easy Company charge forward, fueled by faith in one another and the angels on their shoulders—the P-47s. As the tankers pass a smoldering Tiger I from the nearby armor school at Paderborn, they know that the flyboys have brought them one mile closer to victory. From here to the end, this American team will prove unstoppable.

Want to know "who" signed which print edition? Click the EDITIONS tab above.

Shipping added in checkout // print size: 32" x 20" // ships rolled in a tube


ARTIST PROOF - Resale, in mint condition!
This long sold-out Artist Proof is from an edition of 100 numbered prints autographed by artist Gareth Hector and six WWII veterans: "Spearhead" M4 gunner Clarence Smoyer, "Spearhead" M4 commander Joe Caserta, "Hell on Wheels" M4 driver & FURY advisor George Smilanich, "Hell Hawk" P-47 pilot Herb Prevost, Omaha Beach M4 driver Bill Gast, and 36th AIR "Blitz Dough" Bill Lehndorff. Includes photos showing "Hell Hawk" pilots and 3rd AD tankers, pins from the 3rd AD, 32nd AR and 9th AF, and a COA with "History Behind the Art."

MAIN EDITION - Less than half remain!
100 limited-edition prints signed by Gareth Hector & two WWII heroes: "Spearhead" gunner Clarence Smoyer and "Spearhead" tank commander Joe Caserta. Includes COA with "History Behind the Art."

PUBLISHER PROOFS - Sold Out
100 limited-edition prints

OTHER EDITIONS
100 Victory Editions & 45 canvases may be made available. 100 Signer Proofs exist, not-for-sale.

"Unstoppable" is hand-signed by a collection of WWII heroes! Signers vary print by print. Please click "editions" to see which veterans signed which prints. 

CLARENCE SMOYER
One of America's most celebrated tank gunners, Clarence served in Shermans before being awarded one of 20 Pershings shipped to the ETO. He claimed five enemy tanks in battle and is the hero of the bestselling book Spearhead. In 2019 he was awarded the Bronze Star with "V" for Valor. View the video below to learn more.


JOE CASERTA
Sherman tank commander of "Everlasting" in E-Company, 32nd AR, 3rd AD (along with signer Clarence Smoyer). Received the Bronze Star for saving his tank during the drive to Cologne.

BILL GAST
Sherman tank driver in A-Co., 743rd Tank Bn. Landed at Omaha Beach on D-Day and would later receive the Silver Star & Purple Heart.

BILL LEHNDORFF
"Blitz Dough" in H-Company, 36th Armored Infantry, 3rd Armored Division. Rode the tanks of the "Spearhead" division into battle.

ARCHIE MALTBIE
As a young P-47 pilot with the 388th Fighter Squadron of the famed 365th Fighter Group, the "Hell Hawks," Archie often flew column support missions for the tankers below.

HERB PREVOST
20-year-old P-47 pilot with the famed "Hell Hawks," Herb flew 117 combat missions during WWII starting in July 1944.

GEORGE SMILANICH
Sherman tank driver in the 2nd Armored Division, "Hell on Wheels," from North Africa to the Third Reich. Bronze Star recipient and consultant on "Fury."

RAY STEWART
Sherman tank driver in the 2nd Armored Division, "Hell on Wheels," from Normandy to the Third Reich. Lost two tanks in action, consultant on "Fury."

LES UNDERWOOD
19-year-old Sherman tank gunner, and later Pershing commander, in the 3rd Armored Division.