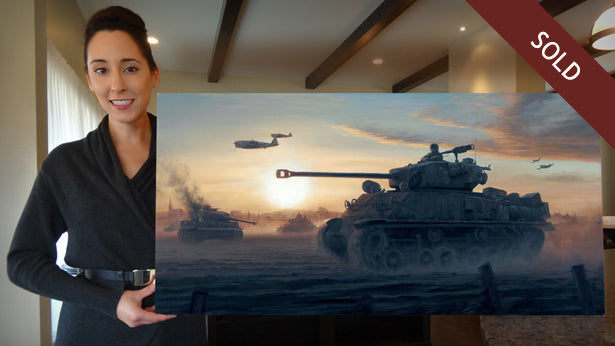 "Unstoppable" Original Painting by Gareth Hector
Now is your chance to own a one-of-a-kind masterpiece by Gareth Hector. "Unstoppable" shows Sherman tanks and P-47s of the "Hell Hawks" as they advance near Paderborn, Germany, in early April 1945.

This original oil painting on canvas is 40" x 20", and sold unframed. Adding to the incredible history are the autographs on the back by eight Sherman tankers, Armored Infantry, and P-47 pilots.

Having previously sold our other Hector paintings, this is the only one we have for sale so don't wait to add this ultimate collectible to your wall!

Born in 1973, Gareth found an early passion for painting and military history while growing up in Scotland.

He would go on to a successful career in the world of computer animation and digital painting, working on projects such as Medal of Honor, Doctor Who, and Halo.

In the aviation art field, Gareth's work most frequently appeared on the cover of Osprey publishing's aircraft books and on aviation magazines spanning Aviation History to Aeroplane.

In 2010, Gareth dusted off his oil paints and returned to his love of traditional painting after a 15 year hiatus.

Since his rebirth as an oil painter, his original paintings have found their way into the collections of the CIA, RAF and Marine fighter squadrons, and in private homes across the globe.

THE rising star in the world of military artwork, we're proud to bring "Outrun the Eagles" to you now and look forward to bringing you more stunning works by Gareth in the coming future!